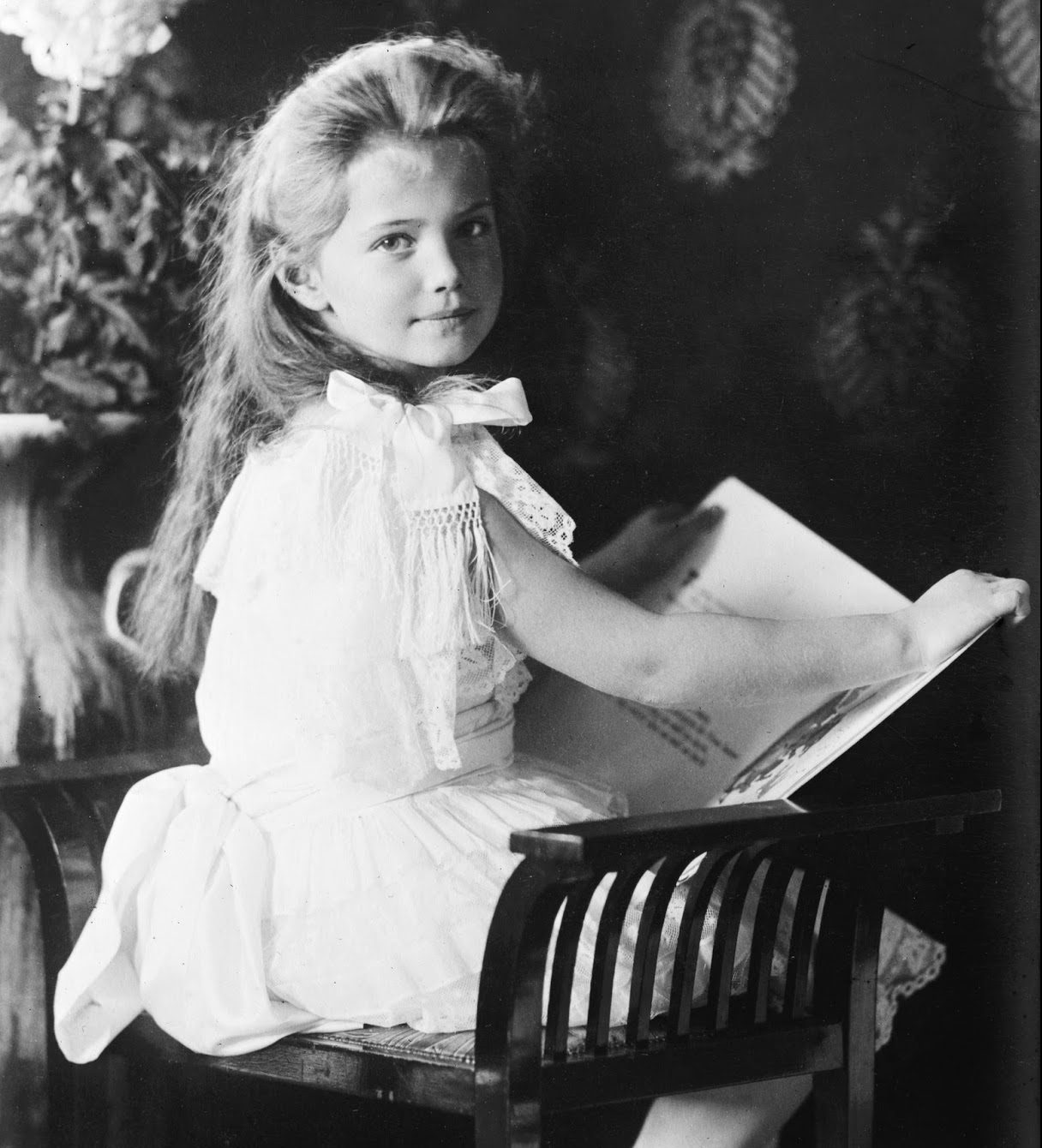 "With hair color and facial features Maria Nikolaevna looked like Olga Nikolaevna, but her younger sister seemed more vivid and lively. She had the same charming smile and face shape, but her beautiful eyes - "Marie's saucers", as they were called by her cousins - were deep blue. Her hair was famous for its golden hue; when in 1917 it had to be shaved after the illness, then, growing back, it began to curl. "

"Maria Nikolaevna, the only one of all the sisters, who had an undoubted talent for drawing and did very nice sketches - and always with her left hand."Mashka", as her sisters called her, was completely dominated by her younger sister, Anastasia Nikolaevna, nicknamed "shvibz»."

"When learning to walk, she always tried to escape from the nursery to her dad. Wherever she saw him in the garden or in the park, she always called him. And he always, as soon as he saw or heard her, waited for her and carried a little in his arms. When he was sick in the Crimea, she grieved beyond measure."

"• "The Grand Duchess Maria was a plump girl with big eyes shining like lights and full lips. She was kind and obedient, and like her younger sister Anastasia, was a smart and frisky girl. Her misfortune was that she was too young to be in the company of older sisters, and not so young to play with the two younger family members. ""

"At the early age, she was very noisy and awkward, but by the age of fourteen she had grown remarkably prettier." When the present King (at that time the Prince) of Romania came to ask for the hands of Grand Duchess Olga in marriage, he fell in love with Maria, but the Empress did not want to hear about marriage either, she said , that Maria was too young to marry. Most of all Maria loved her father ..."

"Maria Nikolaevna was beautiful, rather large for her age, she was shining with bright colors and health, she had big, wonderful gray eyes. She was modest and embodied with cordiality and kindness. Her sisters, maybe a little exploited her kindness and called her "kind fat Tutu", this nickname was given to her for her good nature and a little baggy complaisance. "

"Maria Nikolaevna, 18, was lighter than Tatiana and darker than Olga, with very beautiful light gray eyes. She was big-boned, and the only one of the siblings looked after the grandfather of Emperor -Alexander III with such great physical strength. In the family, she was the simplest, most affectionate and affable."

"In Peterhof, in the hot June weather, Grand Duchess Maria was born. She was born pretty, too pretty, I often think, with some slyness of aggravating child in facial features. Grand Duke Vladimir called her "The Good-natured Baby", as she was always so charming and cheerful. She is a very cute and charming child, with huge dark blue eyes and beautiful even dark eyebrows - the Romanov's trait a family trait."

"I liked Maria, the third in a row, most of all. If we talk about beauty, then, in my opinion, she was the prettiest, though a fat one. Maybe I say this because she was not a bit embarrassed to kiss anybody noisily. As a child, of course. All of a sudden she can run up, hug and kiss. You do not know how to react. And everyone around is laughing! She was then seven years old..."

"Her eyes illuminate the whole face with a special sunny light; they seem black at times, long eyelashes shadow bright glow of her tender cheeks. She is cheerful and alive, but has not yet awakened to life; there are strong powers of a real Russian woman hidden in her "

"She can be safely called the Russian beauty. Tall, full, with sable eyebrows, with a bright glow on the honest Russian face, she is especially sweet to the Russian heart. You look at her and unwittingly imagine her dressed in a Russian boyar dress with snow-white muslin sleeves and semiprecious stones on her high heave breast, and a kokoshnik with pearl above a high marble brow"