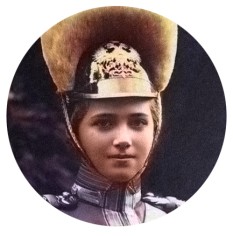 …
God Bless You

September 20, 1914

To my darling Papa!
Tsarskoe Selo
I write to you at Mamá's . Here are Maria and Dmitry, who had dinner with us. We were at the vigil and I prayed a lot for you. The Holy Father took advantage of your absence and gave a speech after the vigil. It was terribly boring during the vigil as you were absent. Love and kiss you. Sleep well and see good dreams.
Loving you. Your Maria.

September 21, 1914 
To my darling Papa!
Tsarskoe Selo
My congratulations to you, my darling Papa. This morning there were 4 at the mass with Mamán. Our Father and deacon of Shavelsky hosted. We had a breakfast alone, then went to the train with the wounded. We were at Anya's and had tea with her. After that we went to the Palace Infirmary, Mum, Olga and Tatyana went to apply dressings. Anya and me went round and talked to almost every patient. Then Mum, Anya and I drove home, as Mamá had to welcome the sisters of mercy who were leaving for the war. After that, we went to the small infirmary, where your Rifleman was admitted. There Mamán and her sisters made bandages again, and Anastasia and I went to the officers. I played some game with Popov. After the dressing, the sisters and Mamá also played with the officers, so we returned only, only for dinner. We 4 had dinner with Mamá. Alexei, thanks God, is feeling well. I kiss You warmly, my own darling. Loving you, Your own Maria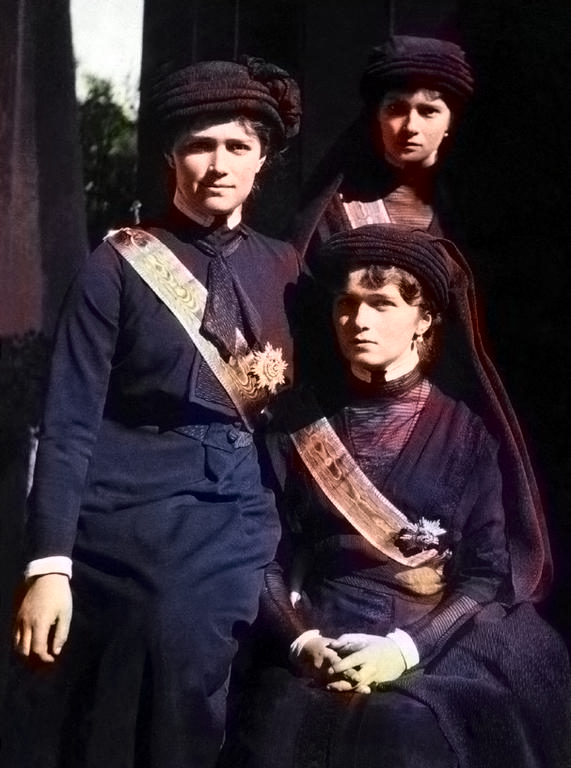 September 24, 1914
To my darling Papa!
Tsarskoe Selo
My dear Papa darling! I just returned from Anya, where Nikolai Pavlovich was. This afternoon Anastasia and me were in our infirmary. The last Schulenburg train brought 15 people.  Unfortunately, I must break in, because it's morning now and I have to go to the lesson. I kiss you warmly, my darling, and I love you. All the best to Sasha and Nilov. Always Yours Maria. Sorry for such a boring and short letter.
In this letter Tatiana Nikolaevna added: Papa, my darling, I'm sorry that I do not write to you separately, but I did not have much time. We're going now to the infirmary, where the surgeries will be done today. The weather is clear, it is sunny, but cold. We are waiting for you coming back.
My committee was a success yesterday, thank God. Well, good-bye. I embrace you and love. God bless you.
Your daughter, Voznesensky Lancer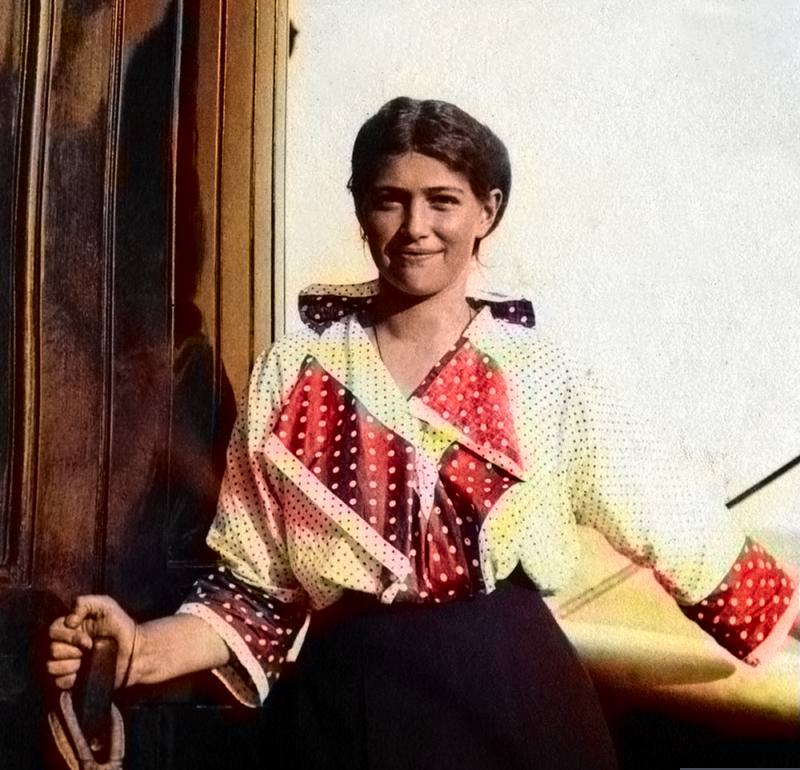 22 october, 1914 
to Papa in Stavka
Tsarskoe Selo
My dear beloved Papa!
I 've just received a telegram from the regiment. «On the day of the regiment feast, the Kazan Imperial Majesties' dragoons, offering prayers for the precious health of their adored Chef, most despicably deplore their greetings and toasts to their  «Supreme Ruler His Majesty the Emperor and August Chief «.
Now I'm going to drink tea, and then go to mass. I will pray for you and for my regiment in particular.
We were at the mass and had breakfast. I received a telegram from regiment ladies who asked me to take the infirmary, which they opened, under my protection. Olga and Tatiana went to Petrograd. Me and Anya and Mamá will inspect the train-depot of Mamán.
Best regards to Nikolai Pavlovich and Sasha. I kiss you warmly. Loving You
Your Kazanian
God bless you.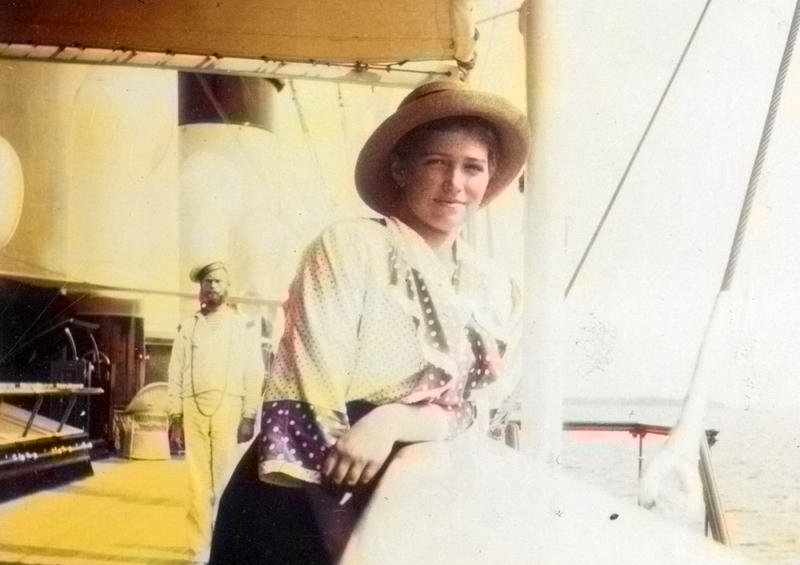 October 23, 1914
To my darling Papa!
Tsarskoe Selo
I'm so sorry that I couldn't write to you today. Yesterday afternoon, I was with Anastasia and Nastenka at the Nanny School, where children were drinking tea, and I fed them porridge with nanny and remembered you when they had a porridge running down the their chins and we cleaned their chins with spoons. We have been in the infirmary today, there are many seriously wounded in the head and one in the stomach. Today they all wrote letters to their homeland, and several Siberians could not, so that the other wounded helped them.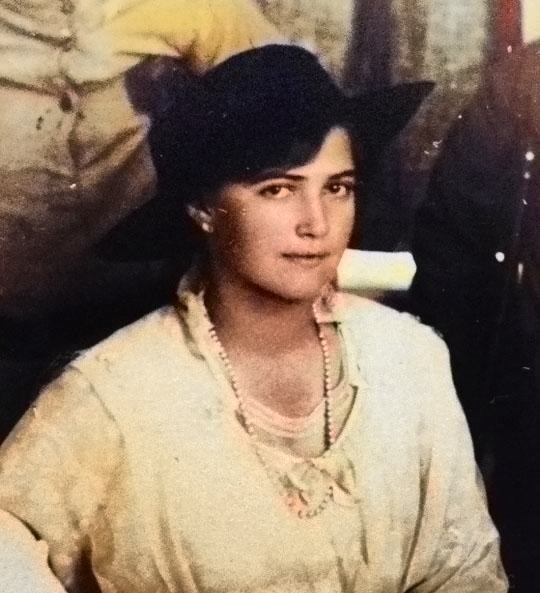 24 октября 1914 г.
To my darling Papa!
Tsarskoe Selo
We have just had a breakfast.  In the morning at 9:50 we were at the mass.
Now I 'm going with Anastasia to our hospital, and then to the warehouse. Mamá left for Petrograd with my sisters. Tatiana will have a committee there, and Mamá will go to her warehouse. It's very boring without you. Give my best regards to Sasha and Nikolay Pavlovich. A lot of kisses from me. I did not see Demenkov. May God keep you safe.

October 24, 1914 
To my darling Papa!
Tsarskoe Selo
I'm terribly sorry that I did not have time to write to you. This morning as always I had unbearable lessons. Then we had breakfast. During the day we attended 4 hospitals in Pavlovsk with Mamá and Aunt Mavra, and saw a cossack who was wounded by a Saxon pig (that is, their master of horse). I'm writing so badly, because Mamá has a pen. Now I have just washed myself, and Lisa (Elizabeth Nikolaevna Ersberg) is combing me. We still were at the consecration of the infirmary in the Consolidated Regiment.
It is in the house where the church used to be. There is a dining room now where a church service used to be. Where we used to leave coats, now dressing room. Demenkov,  my darling, was absent. Today after the Vigil we've been in the infirmary, where Idigarov lies. I kiss you warmly, my precious.
Your faithful and loving Kazanian
Give regards to Sasha and Kolya. Grigori has been here just now. He will stay in Petrograd till your arrival. God bless you. †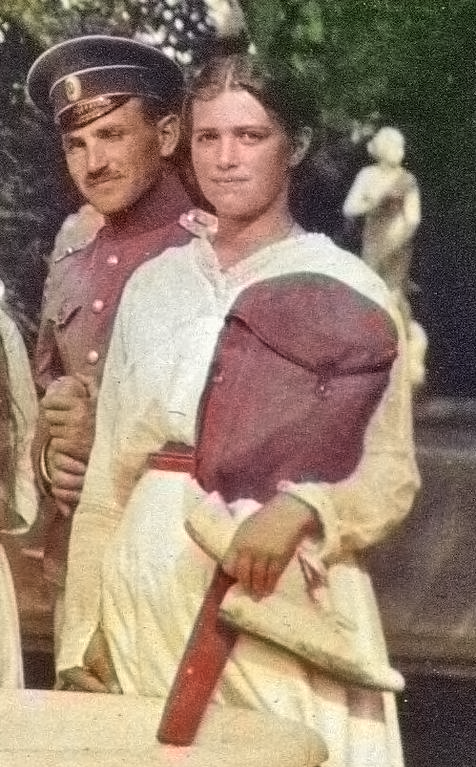 October, 30  1914.

My darling Papa!
Tsarskoe Selo
Me and Anastasia don't know what we are going to do today. I have a running nose. Yesterday, when we went to our infirmary, we saw a crowd of people (officers of the combined regiment), and my Demenkov was among them. We were scared and walked silent not to make them turn about. We saw Nikolaev. He went gray. He talked about many interesting things. In the morning I had lessons as usual. Regards to Kolya and Sashka. 
Warmest regards.
Your Kazanian.
I wrote this letter to you before breakfast, and Mamán is still in the infirmary making dressings. God Save You. †.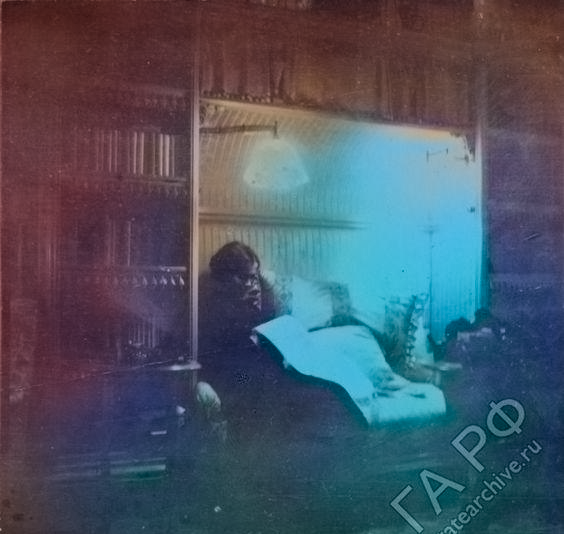 October 31, 1914

My darling Papa!
Царское Село
The sisters will take this letter. Yesterday afternoon we walked, then we were in the infirmary of the Great Palace. There are already eight officers. Today probably we go to our infirmary.
I do not know whether any new wounded arrived by the yesterday's train or not. The other day, near the gate I saw my sailor of the combined regiment from «John Chrysostom», and greeted him. Oh! I hope that tomorrow I'll see my Demenkov at the Vigil service, but I'm not sure, as we are probably going to stand in the chapel (in the Cathedral of St. Theodore), and it's a shame to be alone in the the church and go to the Gospel.
Ortypo is very nice and, in my opinion, has grown. Now I have an English lesson, what a bore. I kiss you, your spouse, and two your daughters, and tell the eldest that I will try to call her on phone, and if I talk to some interesting character, I'll write a telegram to her.
Your own Kazanian
God Bless You†.
Your Kazanian.
I wrote this letter before breakfast, and Mamá still has not returned from dressings. May God keep you safe.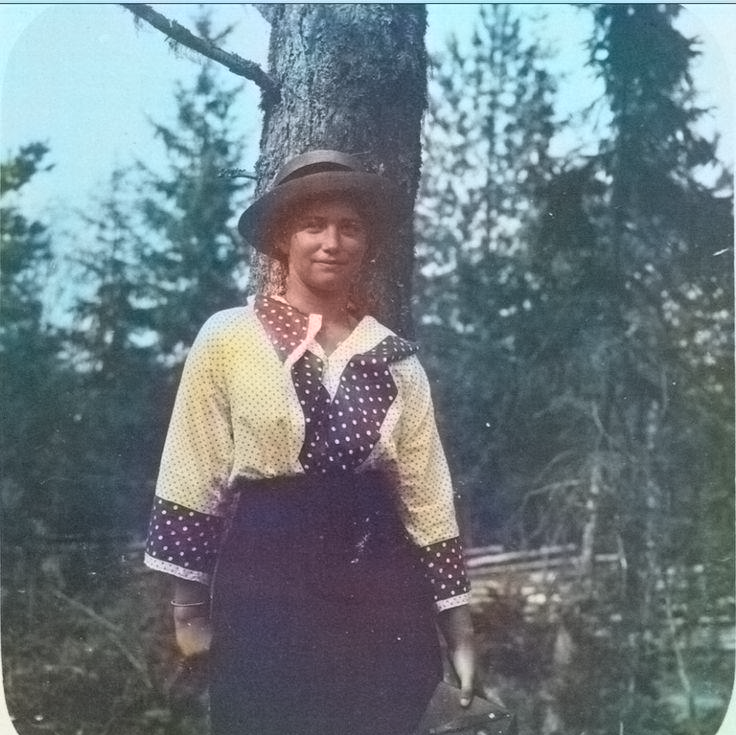 November 19, 1914
My dear Papa!
Tsarskoe Selo
Today I'm writing to you, since Olga and Tatiana have just gone to Petrograd to donate. I had lessons in the morning. Mom with Olga, Alexei and Anastasia went by the train. Yesterday I was with Mamá and the sisters in the Great Palace with the wounded officers and saw that young officer with a large bed-sore on his back. He has a very pretty face. We signed him cards, and now he is waiting for you to come back, then maybe you will sign it too. Now it's 2 p.m. Mamá is lying on the couch and writing a letter to you, while Anastasia is writing a letter to Olga's aunt. At 2.30. I and Anastasia are going to the infirmary.
Probably, new people also came to us. At tea I always sit on your armchair. Mamán received a letter from you before breakfast. She will then go to the Grand Palace for the dressing of two officers. Alexei is having a rest after breakfast upstairs. Tomorrow Chakhov  goes to war again. I'm happy that Friday is a holiday, so we will not have lessons, and it's very nice.
Today, during the lesson of arithmetic, the teacher bent down to see if I had written correctly, and with his weight broke the leg of the chair and fell slightly at me. Well, bye-bye, my dear. Kiss and love, your Kazanian. God Bless You. Give my best to Sasha and Kolya and tell the first to behave well.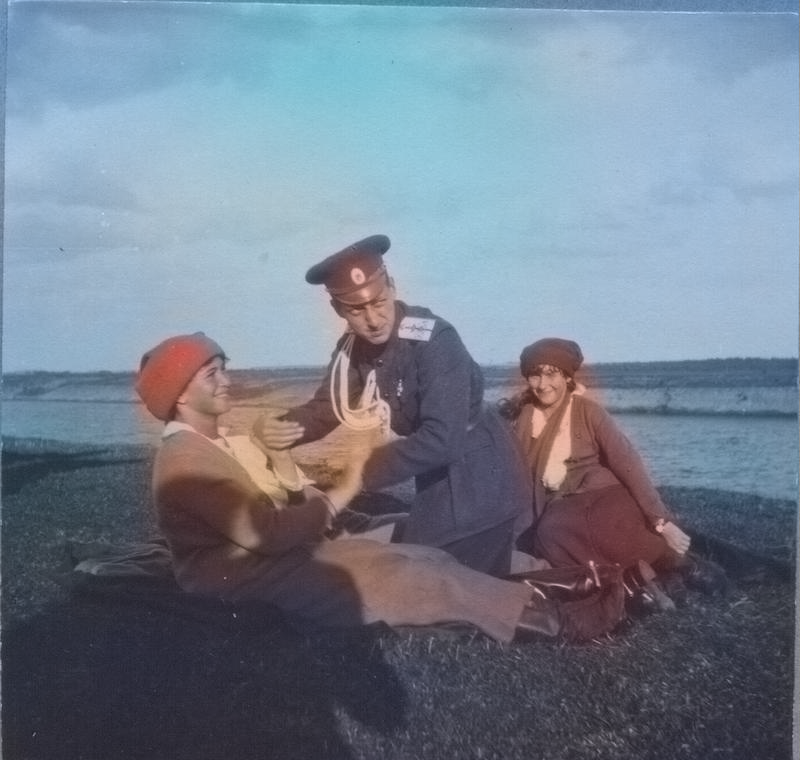 November 30, 1914
My dear Papa!
Tsarskoe Selo
Mom is now lying on the couch and having a rest. This morning we were all 5 with Mamá at the mass and then did bandages, and Alexey looked and counted how many of them he used to attend. After breakfast, we took a picture in the Great Palace with the wounded officers.
From there we went to the Disabled Persons House, and there Mamá gave several St. George medals to people of lower ranks. Mamá is very tired, and so she does not write to you today. Now we have tea with Uncle Pavel. Yesterday at the night service, I saw my dear Demenkov, and there was Shvedov at the meeting. So, I and Olga were very pleased. Yesterday afternoon they were in the local hospital, where Mamá also gave out medals. Today after tea, officers come to Mamá, her two Crimeans, one of my regiment and one of Olga's. Kiss you.
Your own Kazanian.
God bless you. Regards to Kolya and Sasha.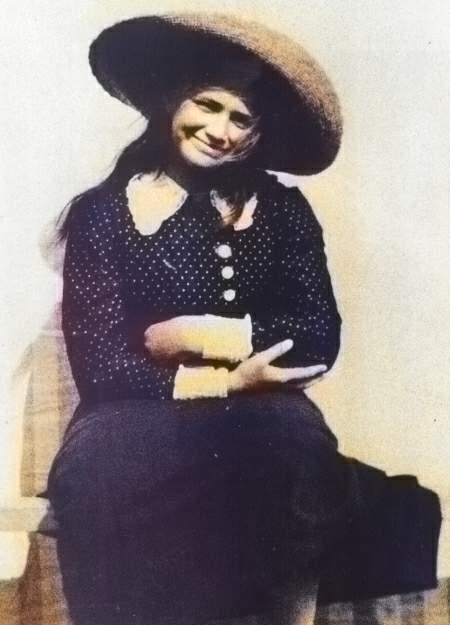 April 5, 1915

My dear Papa!
Tsarskoe Selo
I'm sitting next to Mamá, Shvybzik is lying on her hips. Anastasia is drawing. Olga and Tatyana went to the hospital to see Vartanov. When they are back, we will go to the mass. Yesterday after you had left, we went home, and then all 4 of us went to the infirmary. The concert was very successful. Delazari was very nice and told some funny stories. Then one lady in a sarafan danced Russian dance (it was quite finical). My Demenkov was very nice and introduced us to all the actors. Today we are going to Rodionov and Kozhevnikov. The weather today is good. It's sunny and 15 C.
In the afternoon we are going to walk, today, probably, no one interesting in the duty room. Today none of the sisters will write to you, because they do not have enough time. The courier leaves at 5 o'clock, it is very inconvenient time. It's a pity that Ilyinsky went with you, and not Popov, since you'll be in Odessa. It's terribly boring that you are not here, it would be possible to chop ice together today. Yesterday Anastasia found two crocuses and a snowdrop under the balcony, neither where they had been planted, but where they grow themselves. Now there is a gospel at the Mother of God of the Sign, and it's time for me to go to put on my hat. I kiss you, my angel, and I love you terribly.
Your own Kazanian.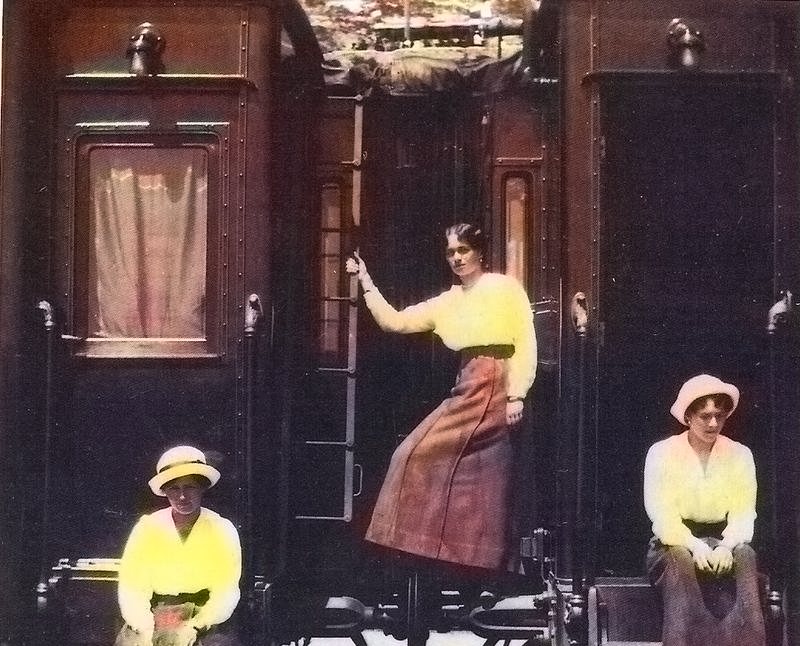 April 8, 1915.
My dear Papa!
Tsarskoe Selo
Mamá was terribly pleased to receive a cross from you, and she has been carrying it all the time (the Tsar has made a present to his beloved wife. On that day 21 years ago, the engagement of Tsarevich Nikolai Alexandrovich with Princess Alice took place. In his diaries he called this day «wonderful and unforgettable «. In a letter to Alexandra Feodorovna on this day he wrote:» I wish you health and everything that a deep-hearted heart can desire, and on my knees I thank you for all your love, affection, friendship and patience that you have shown these long years of our married life). She was lying on the balcony for the first time. I rode a bicycle with Anastasia a little near the house. It seems a person on duty today is someone not interesting. In the morning it was 20 degrees in the sun. During the day I walked with Anastasia and Shura, and then we were in our infirmary. Nikolaev had an abscess on the large finger of a right leg, and he had to take out the nail, so he must lie down again for several days. <…> I am very glad that you are going to see Aunt Olga. Do you remember when Tatyana Andreevna was here and asked you to come, you did not think then that you would get there so soon. I'm sitting next to Mama's bed where she's laying, Olga and Tatiana are reading, Alexei wanted to sleep in your bed today and told Mama that he pretends to be a husband. Yesterday he ate overroasted toasts. Olga and Tatyana were in Petrograd today, Olga for a donation, and Tatyana tad a talk with the nice Neidgart in the committee. After dinner I played colorito with Mama. Now she is reading some English book. Yesterday Ani had tea with Kozhevnikov, Rodionov and Kublitsky. Before that, they went to say goodbye to Mamá, because they had to leave yesterday evening. They were dressed in shirts like you. I'm boring without you. I kiss , embrace and love you.
Your Kazanian.
My best regards to Kolya. God bless you.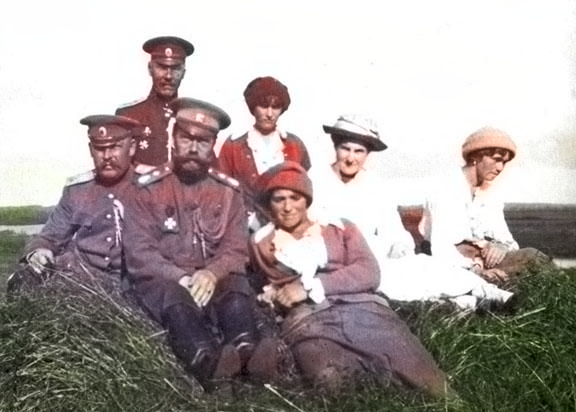 April 18,  1915

My dear Papa!
Tsarskoe Selo
Well, how do you do?
I'm glad that you have seen your glorious Plastuns. We are as usual. Today we've been at the night service. The priest Kibardin was serving, and the soldiers sang well like angels. In the church there was no one interesting for me, except our wounded. We've just finished dinner. Alexei came to Mamá to pray. The sisters are handling the flowers that Yanovs sent from Livadia. Wisteria and others. I read a letter to Olga from Aunt Olga. I put Shvibzik in my lap, but he wished on the floor.
Mamá sends Anastasia to bed, but she is in despair to find Shvybzik, that is missing, everyone cries and calls him, but this scoundrel does not appear. He was finally found in 10 minutes, we all searched for him under the couches. Finally, Mamá decided to bark, and Shvybzik also barked, and it turned out that he was sitting under the Mom's couch, and he was pulled out with a common effort. Gently kiss the protuberance on Kotov's forehead and send regards to darling Litvinov and Chemodurov. Shura kisses your left heel imaginatively. I myself embrace you and kiss you tenderly.
Your faithful Kazanian.
God bless you. †
Regards from me to Kolya.
I continue the letter in the morning at 8 o'clock. I just opened the curtains of the window and saw to my delight that it was 19 degrees in the sun. Alexei came to our bedroom, and now he is lying in my bed and playing with Anastasia and Shvybzik. The sisters are still asleep, Shvybzik is sobbing, probably, he wants to make. He already did it, and Anastasia came with a fireplace shovel and picked it up. Well, bye-bye, my Papa darling. Sisters and Alex kiss you.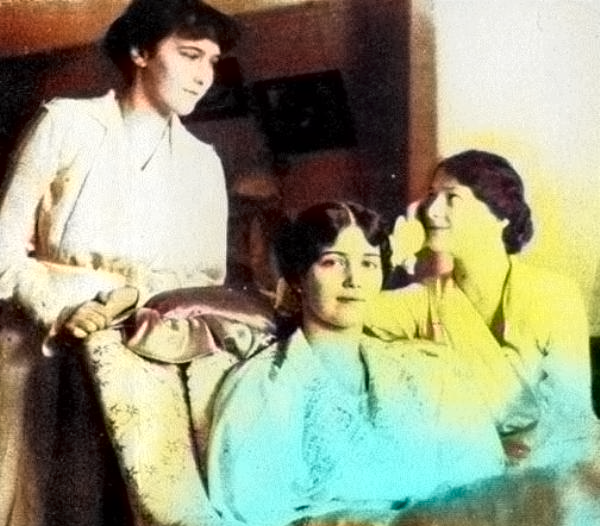 June 12, 1915
My dear Papa!
Tsarskoe Selo
My dear Papa, darling!
Last evening we were at Anya's,  and there were Nikolai Dmitrievich, Aleksandr Konstantinovich, Vikt. Erastovich and Skvortsov. We spent time well, they played in "dobchinsky bobchinsky" and charades. Yesterday afternoon I played tennis with Anastasia. As usual, I lost the 3d set. Today, probably, we'll walk to the Grand Palace. The other day we were at the Nanny School and hug kids who were going to bed. We were also at Mom's warehouse where bandages were wrapped, and me and Anastasia, like everyone else, had to wear white coats and kerchiefs, so we both were very embarrassed about. Now we are sitting on the balcony. Now Anya goes by car to Grotov in Krasnoe Selo. Tatyana went riding, I also wanted, but I have a cold, and therefore I stayed. I 've just been with Anastasia and Olga at the Red Cross Infirmary and in the Grand Palace. Today an English sanitary motor float will be introduced to Mamá.
Buy-buy, my darling.
God bless you †. I love you and kiss you.
Your Kazanian.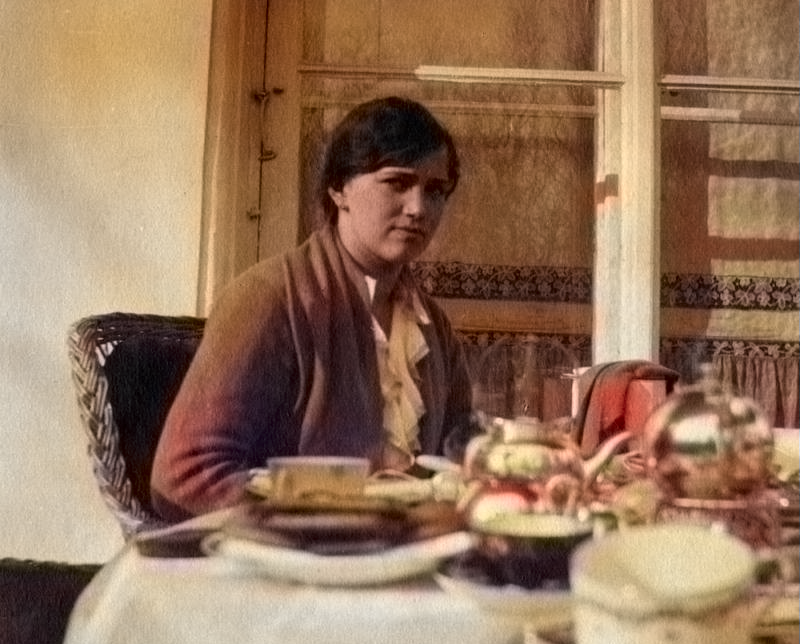 June 15, 1915
My dear Papa!
Tsarskoe Selo
Thank you very much for your lovely and long letter. Once again I thank you for wonderful gifts. Yesterday morning they were present at the mass, then they had breakfast on the balcony. At daytime, Mama and Anya rode in a cart, and we 4 in small driveless cars. I rode with Tatiana, and Olga-  with Anastasia. We traveled along the same road where we had driven the car in the evening in Pavlovsk. George on his small car rushed into Mama's carriage but without damage. We followed them and burst into laugh. Then we had tea with Mama and, of course, Uncle Pavel, because it was a holiday.
As usual, Uncle  sang "ti-ta-to-", and then said that he wanted to talk with Mama alone, that always happened after he was singing during tea. We then went to Anya. We sat on her balcony, and then we played in the room. The day was good in general, but bad, because you were not with us. Once more, I thank you, my darling, I love and kiss you wholeheartedly. Christ is with thee.
Your Kazanian.
I beg regards to Sasha and Kolya. I played tennis only once with Anastasia. Anastasia is kissing you. She is lying on Mamá's balcony and drinking coffee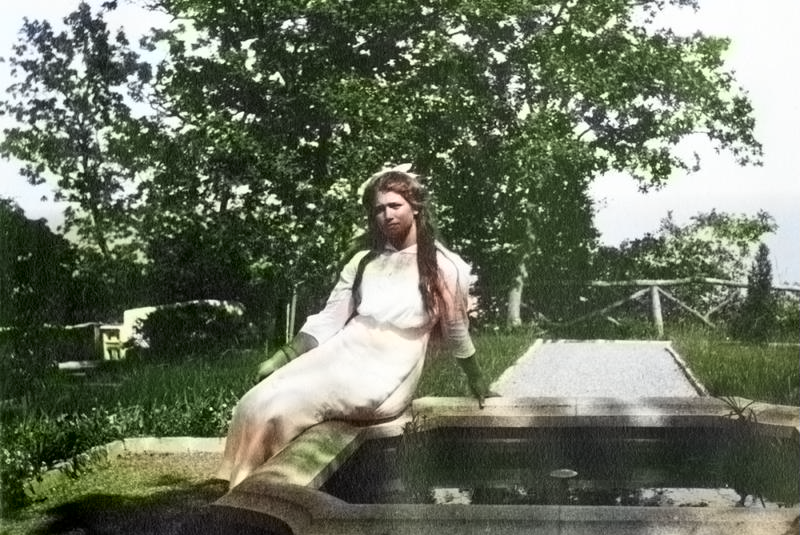 June 19, 1915
My dear Papa darling!
Tsarskoe Selo
This afternoon I saw several children who were swimming in the river, and I  wanted to swim like you. Alexei goes fishing with a fishing rod almost every day in a pond near the elephant. I forgot to tell you that today we were at Mam's House for Disabled and saw two Cossacks of that Kuban regiment that was here.
One of them was old with a beard, both were very nice. Two new officers of the 5th Siberian Rifle Regiment were brought to our hospital, one was very serious. Your letter lies at my table at night.  God bless you. I kiss you as fast as I love you.
Your Kazanian.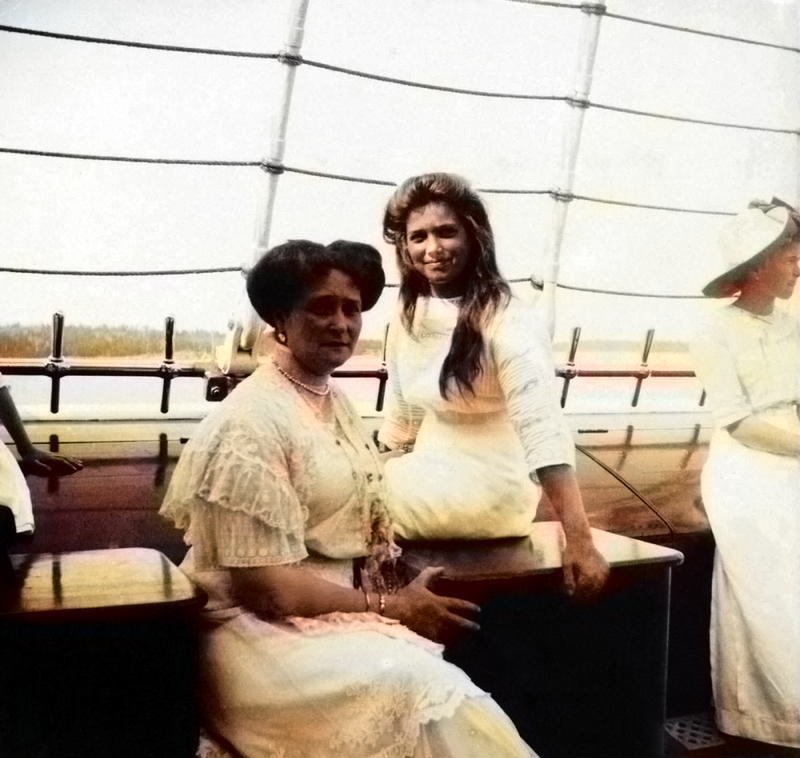 August 30, 1915
My dear Papa darling!
Tsarskoe Selo
The four of us are now lying in the arm-chairs with our legs on the chairs. Olga is knitting a stocking. Anastasia is sorting out the old letters; Tatiana is reading poetry. Today in the morning we've been at the service. We had breakfast in the balcony with Sonya. In the afternoon we went for a drive and visited the cemetery. A small church is being built there…  Then we visited the Grand Palace. We'll take a lunch alone. Alexei went to Peterhof after breakfast.
Tomorrow Nikolai Dmitrievich and the company will move there. He does not seem to be very happy about this. Today is Drentel's birthday and we've sent him a telegram. The first hundred went to you, so it's a pity we did not see Viktor Erastovich. Alexander Konstantinovich is still here as he acts as the adjutant. Tomorrow we will see him and Yuzik at Anya's.  In the afternoon she will host Irina Tolstaya and Khitrova, she is the daughter of this huge Khitrovo.
Well, there is nothing more to write. Love and kisses.
Your Kazanian.
God bless you. My regards to Kolya, Sasha and Lozinsky.
I miss you very much.
Sisters kiss you.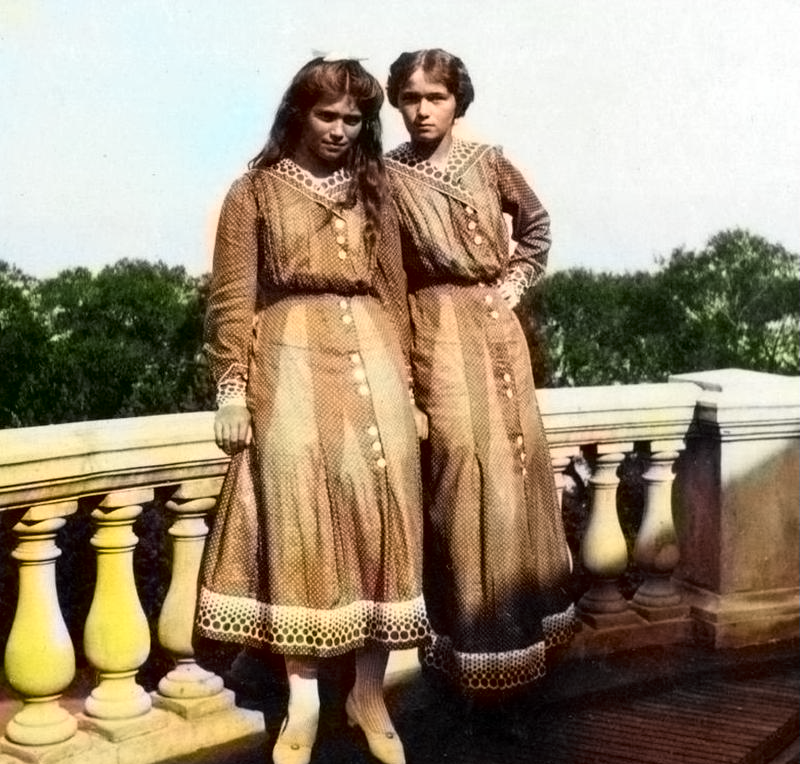 September19, 1915
My dear Papa darling!
Tsarskoe Selo
You are coming soon. I'm very happy. We've just gone for a drive with Mama. Uncle Boris will take tea with us. We're doing nothing interesting. These two days Mama went to the hospital in the morning, but a little bit later than the sisters, about 11 a.m. We always have dinner upstairs now in the playroom. It's very cosy, I think. After dinner Mother, Aleksei, me and Vladimir Nickolayevich (Derevenko, a doctor) or Mr. Gilliard usually play the game which we call «The slower you go the sooner your reach your destination».
It's fun because you can «eat» the others. We played this game last year in our hospital. Our officers and soldiers feel better. I have a completely stupid letter today, because we do not do anything interesting. I kiss and love you, my soul. Christ is with You †
Your Kazanian.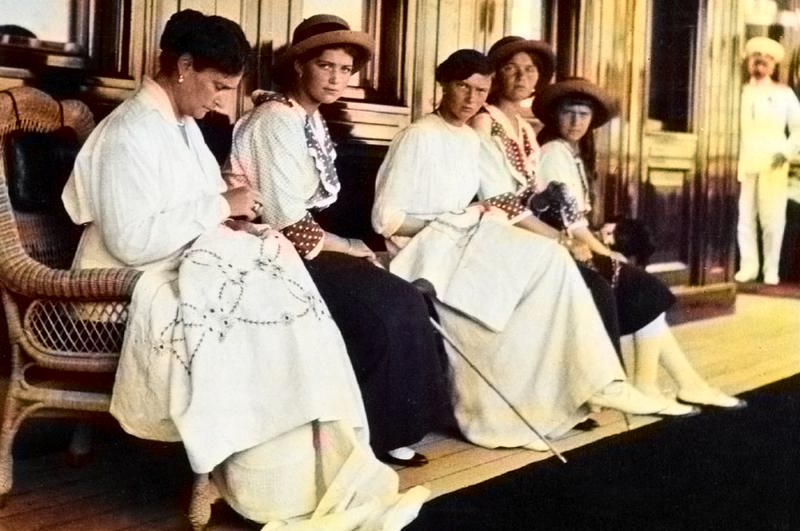 October 2, 1915
My dear Papa darling!
Tsarskoe Selo
Well, this time, I think, you are not so boring. So I'm happy that you saw the 21st Corps. We live here as we used to: during the daytime we go for a drive with Mama and also go to infirmaries. An officer  has transferred from the Red Cross to our infirmary. His name is Shah-Nazarov. He is very pleasant, blackhaired with a mustache; in general, I liked him. Earlier he was at Maria's infirmary in Pskov. We just had tea. Afternoon we went for a drive with Mama and Anya.
Olga and Tatiana are now cleaning tools before the night service. In the evening, Grigory will visit Anya. Yesterday morning we talked with N.D. through the window. Today, probably, I will not see his, since we are not going to the service in the cathedral.
I hope Mama will not take us tomorrow for consecration, as there will be a lot of people and relatives, but space is not enough, it will be stuffy and one should not pray. Now I shall finish as I will try on some dress, terribly uninteresting. Well, goodbye, my Papa darling. Love and kisses.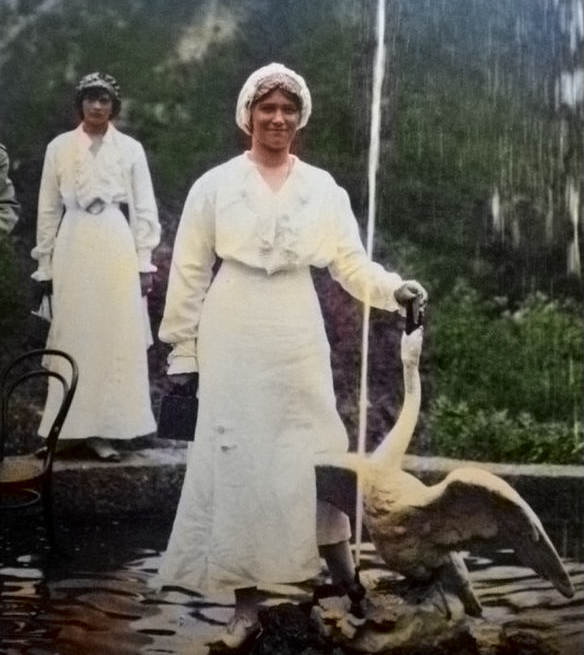 December 1, 1915
To my dearest Papá
Tsarskoe Selo
God bless the new year!
I hope this year will bring You, my dear Papa, many joyful days. It's so sad that we will not see you on the first day of New Year. All in all, we are always bored without You. Well, I finish writing, or else Your Royal Eyes get sick from reading on red paper. God bless You. † My dear, I hug you strongly.
Your Kazanian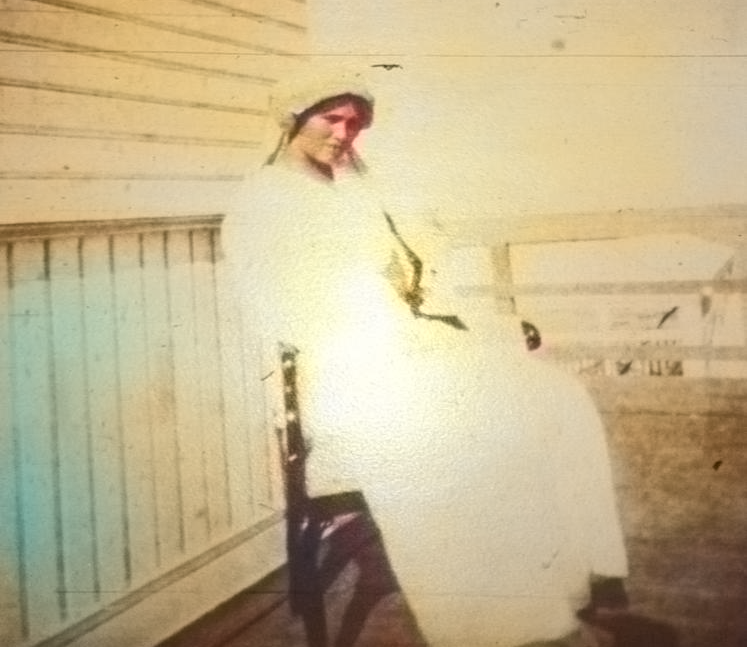 January 4, 1916
To my dearest Papá
Tsarskoe Selo
My Dearest Papa!
It's morning now that I write to You. Anastasia is sitting on the couch near the oven drawing something. We have completely rearranged our room, put the beds to their former place, and the screen went to another place. I can not describe well to you how everything is spaced, You will see it yourself when you are back, which I hope will be very soon. This morning at 9 o'clock we were in the Grand Palace Hospital, we haven't been there for a long time. And yesterday we went to Kokorevsky hospital, three of your erivanians are treated there.
The day before yesterday, we roared with laughter. Old aunt Olga (Grand Duchess Olga Konstantinovna) phoned our Olga to ask one soldier from the combined regiment to visit a wounded from the same regiment. Well, Olga immediately called the duty room, Kulyukin was on duty, and he asked: «Who's on the phone?» She said: «Olga Nikolaevna.» — «Who's Olga Nikolaevna?» — «Olga Nikolaevna, don't you understand? The one that lives above» «I don't have a clue. — «Grand Duchess Olga Nikolaevna, do you hear?» — and started laughing hard, so he was offended and said: » Young lady, this is a service phone and jokes are completely inappropriate» — and hung up.
Olga left. In 5 minutes Tatyana came up and called; he recognized her, and she told him everything. Yesterday Kulyukin came during the lunchtime and asked Resin to apologize to Olga for him, as he did not expect that she would call, that he thought that somebody was joking. Since Mama lies in the bed, we have breakfast and lunch alone. Well, bye for now. Now I will have to go to breakfast. I give you a warm hug and love you.
Your Kazanian (Maria Nikolaevna was a colonel in chief of the 9th Kazan Dragoon Guards of Her Imperial Majesty)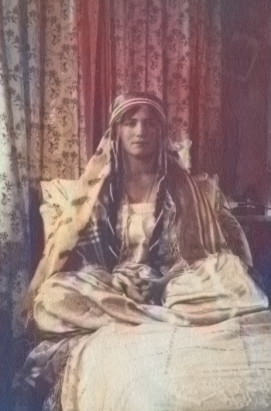 January 4,  1916

To my dearest Papá
Tsarskoe Selo
Just came back from Lunch, I was with Tatyana in the lower church, because she has just left for dressings. And Olga, Anastasia and Alexei are going to church now. Mama is lying, her cheek aching. I do not know what we will do today, probably nothing special. Anya wanted to call Irina Tolstaiaand us, but Irina plays balalaika somewhere today. I'm sure that Nikolai Dmitrievich (Demenkov) will go to the upper church, because I will not be there, and I'm angry in advance.
I have not seen him for more than three weeks. Tomorrow sisters will go to Petrograd to receive donations. Today we need to go to the Grand Palace, we have not been there for two days. I do not know what to do before breakfast. Everyone is in the church, so there is no one to walk or ride with. Maybe Mama will let me go alone, I'll go and ask her. Well, bye, my darling.
In my mind, I hold You tight in my arms and kiss.
Your Kazanian.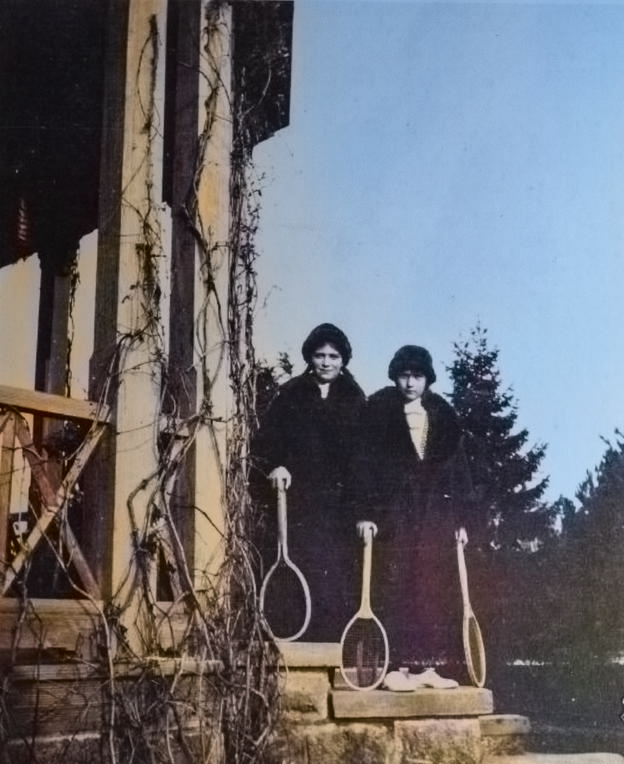 January 6, 1916
To my dearest Papá
Tsarskoe Selo
I'm so grateful to You for Your dear little letter. I did not expect it. Now Anastasia is lying and eating breakfast, Olga and Tatiana were with me in the lower church at Lunch at 9 o'clock, then sisters and Alexei went to the hospital, and I went for a walk. Today it's 4 degrees, so it's very good to have a walk. It's a pity that I could not come to You, we could dig snow together. It's a pity I'm not a boy.
We often get into trouble when we go by car. There is so much snow that we move to the side and get stuck in the snow, so, atamans dig us out with shovels. It has happened three times already, it is very boring and it feels like the engine falls completely on its side. Today we, probably, will go to the Grand Palace. Anastasia is terribly sick of lying down already, it is so dull, especially during the holiday.
The other day we saw little Olga from the Crimea in Trina's house. Remember the one that squatted a dozen times when we went to tennis? She lives in Petrograd now, studies at the Smolny Institute and is very happy, so, she looks forward to the day when vacation ends. Well, bye-bye my Papadushka. I hug you tight and love so much. Your Kazanian. Greetings to all.
God bless You. †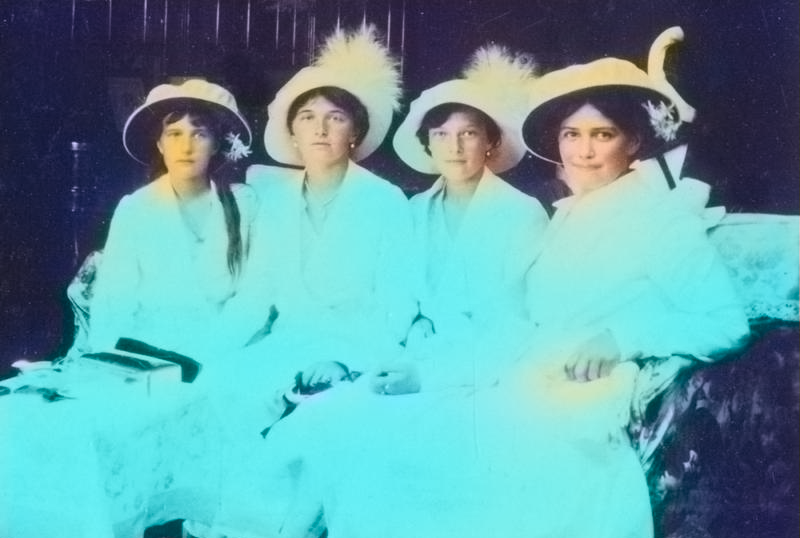 March 2, 1916

To my dearest Papá
Tsarskoe Selo
Yesterday, after we saw you off, Tatiana, Anastasia and I went to the cemetery in the car. We were going there for a very long time because the road was terrible. As we came there and went to the graves of officers, it was not bad, not too much snow, then I wanted to go to the graves of our wounded of lower ranks. On the side of the road, there was a large pile of snow, so I climbed on my knees and jumped down. There, the snow was higher than my knees, and although I was wearing high boots, I was wet already, so I decided to go further anyway.
Nearby, I immediately found a grave with the name Mishchenko, that was the name of the wounded; I put flowers on it and went on, and suddenly I saw the same name again, I looked at the gravestone to check out in what regiment he had been, and it turned out that it was our wounded man, and not the other one. Well, I put the flowers for him and then, just as I moved away, I fell on my back and stayed there for a minute without knowing how to get up, for there was so much snow that I could not reach the ground to steady my hand on it. Finally, I got up and walked on. At that moment, Tatiana and Anastasia said that they would go to another cemetery to see Sonia Orbeliani's grave and that they would come back for me. And they sent a man who manages the cemetery to help me. He hardly climbed up to me, and we went to look for another grave together.
We were looking for it and could not understand where it was. It turned out that it was closer to the fence and we had to crawl over a ditch. He got into the ditch and told me that he would carry me over, I said «no», and he said «we'll try.» Of course, he didn't put me to the other side, but exactly to the middle of the ditch. And so, we both stood in the ditch stomach-deep in the snow and died from laughter. It was very difficult for him to get out because the ditch was deep, and so for me. Well, he got out somehow and gave me his hands. I, certainly, came back to the ditch on my stomach three times, but finally got out. And we both did all this with flowers in our hands. Then we could not get through the crosses, because we were both wearing coats.
After all, found the grave. Finally, we got out of the cemetery. Tatiana and Anastasia waited for me on the road already. I was half-dead with heat and sweat. We got in the car and drove off. I took off my boots to shake out the snow. At this time, we saw a cart on the road. We were going pretty fast. We just drove off to the side a bit, and the steering wheel twisted as Lapin was driving and the front wheels got deep in the snow up to the lights and the car tilted left, I jumped out with one boot on and put another one on the move. What should we do? There was no one for an hour and 10 minutes. We decided to go home on foot, but luckily at that moment we saw a company that was back from shooting and they dug out the car, and we almost made it to the shooting range. The car caught up with us and we came back home safely. However, the road was so bad all the way that we were sure that the car would break down.
As we reached the Cuirassier Cathedral the car jumped so that Tatiana almost crashed her head against the roof. During the day, we were riding troika and we almost turned over another sledge. So, when after all this we went to our hospital, we were sure that we would drive into a ditch or something else would happen to us. We went to the tower yesterday. The sailors were all very nice and worked diligently. We lacked you so there. <…> In the evening, Anya finished with reading «Our people in foreign countries» to us. Certainly, Olga went to bed early. And you, probably, are enjoying the English book. Grandmother sent the book «Olive», and Mama sent her another one. Well, goodbye, my darling. God bless you. †
Your Kazanian.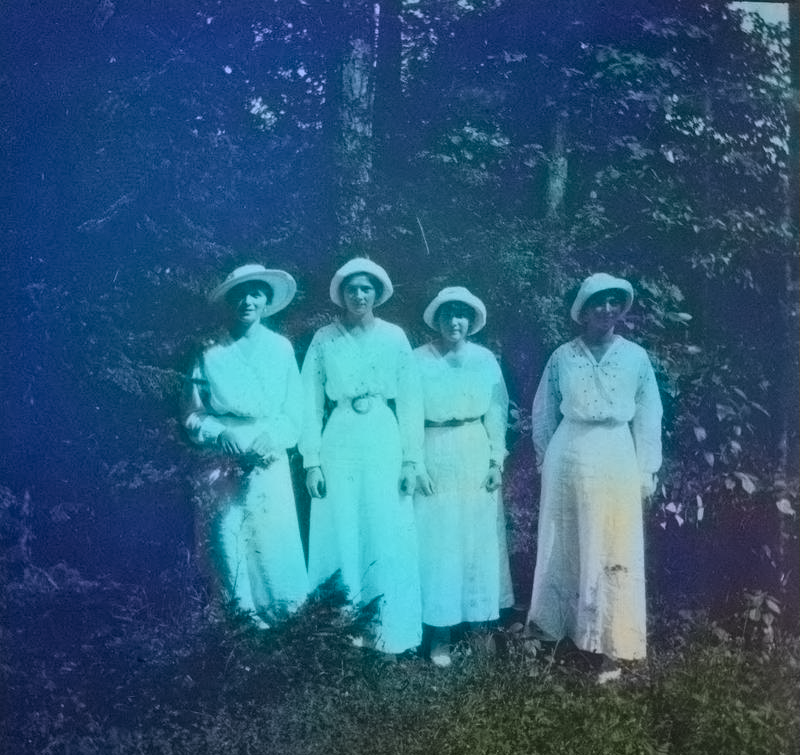 March 14, 1916
To my dearest Papá
Tsarskoe Selo
Well, Nikolai Dmitrievich Demenkov left on Saturday. I talked to him on the phone. He was very glad to go. Do you remember I sewed a shirt for him? So, I asked him, and he said that it fits well. Yesterday three sanitary trains arrived, one of them was mine, and we were there and saw about 300 soldiers and 8 officers. I'm writing to You from Orchy's room. Mama is lying on the couch and Vladimir Nikolaevich is doing electrotherapy on her.
I have just ridden with Shura. Igor will have breakfast with us. In the afternoon, I will go to our hospital with Anastasia. The wounded have not been brought yet, but it seems they will be on Sunday. Yesterday Voeykov was in church and from afar he was a bit like Nikolai Dmitrievich, such a pig! How dared he! And it seems that there will be Voronov in the regiment instead of Popov since he is not quite well and he needs to do something with his throat. In general, we don't do anything interesting. When we have time, we go for a ride with Shura before lunch. It's still very light at 6 o'clock, so strange. Bye-bye, my dear. I love you very, very much, hug and kiss you.
Your own Kazanian.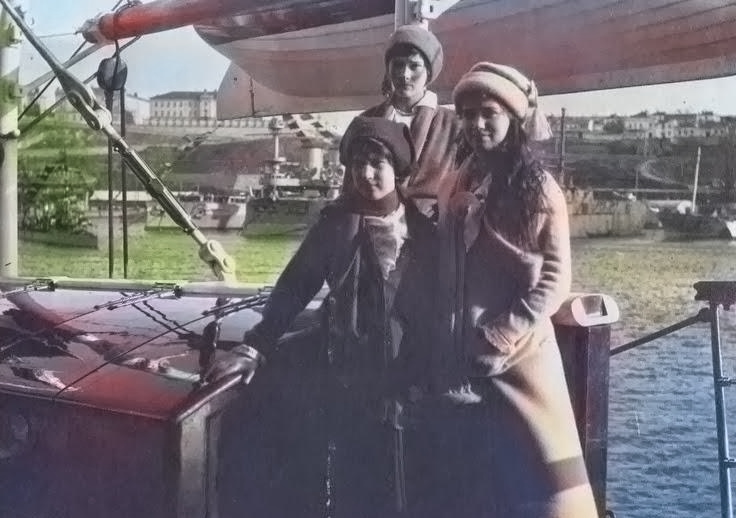 April 6, 1916
To my dearest Papá
Tsarskoe Selo
I ask for Your forgiveness before confession. Olga wanted to write a telegram from us to you about this yesterday, but, of course, she forgot. It was very sad to take Communion without You and Alexei. Now the weather is wonderful. There was a fog in the morning when we went to church, and it's sunny and the sky is blue. I have just finished breakfast and I am going to ride with Mom and Anya.
We all had breakfast upstairs in the playroom next to Alexei. His arm does not hurt now. Today, many soldiers and Cossacks took Communion. Of course, all the Priest's family was there too. So, it's a pity that You did not take Communion at Your Headquarters. I need to finish. God bless You. Big kiss.
Your Kazanian


June 4, 1916
To my dearest Papá
Infirmary for the wounded at Feodorovskiy Gosudarev Cathedral
It seems that I've never written to you on this paper. Today it was hot here, but now it's different, as there has been raining a little. We went to mass in the morning and had breakfast on the balcony, drank tea with Madame Zizi. She leaves tomorrow for her village. I'm all bitten by some evil animal, so my whole body itches. It is very unpleasant, especially in public when you want to scratch yourself.
These days we go to the sisters at the infirmary almost every evening. They clean tools and prepare material for the next day. Anastasia plays croquet with the wounded, and I play tiddlywinks or do a puzzle. This afternoon we skated, and then went to our infirmary. Almost all the wounded are in the tent, only the bad wounded are not allowed. Those who can walk go on foot to the Catherine Park and there on the lake they go rowing. They like it very much and always ask the sisters to go with them.
We go to our infirmary every day, it's much better than the Great Palace with my sister Lyubushina. She, of course, noticed that we became tanned and all the sisters too. We went to the Children's Island the other day with Poup's sister and she pulled out the weeds with us. There was a lot of rotten grass in between the lilies of the valley, which did not let them grow fast. We cleared up the half and are going to do the other half soon. Love and kisses to you and Alexei.»
God bless You. †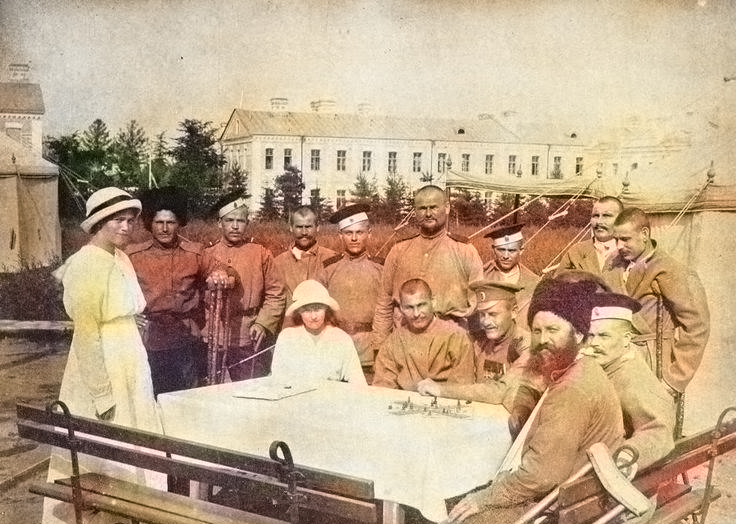 June 17, 1916 
To my dearest Papá
Infirmary for the wounded at Feodorovskiy Gosudarev Cathedral
I'm sitting in the balcony now with Mama and Anya. We just finished breakfast. The storm comes around, and it thunders. I do not know what we're going to do. These days Anastasia and I go to our new infirmary very often. It's very comfortable. I hope that when you come back, you will visit us. Every evening we go to the sisters at the infirmary and play Dobchinsky-Bobchinsky there.
You can not imagine how Baron Taube fusses and argues with Rita Khitrovo. They always bully each other. The lightning flashes all the time, and Anya, crossing herself, says: «Oh, don't, I don't want a thunderstorm.» I finish writing, as there is nothing else. I kiss you and Alexei. I thank Zhilik for the letter. God bless You.†



July 16, 1916
To my dearest Papá
Infirmary for the wounded at Feodorovskiy Gosudarev Cathedral
You will have to tire Your eyes, reading my letter to Alexei, since I wrote him on red paper. This morning we want to go for a drive with Shvybz and Trina. Yesterday afternoon we were at our infirmary, and then went to Loman to the farm, I mean, not to him, but to his daughter, who had had a son Roman two weeks ago , whom Mama will baptize on Sunday. The child, of course, slept, and we just looked at it, and then they showed us their rooms. They were very small but cozy.
We began to go to the nurses at the infirmary in the evenings again. I am writing to You in expectation of Father, who probably forgot that he has a lesson with me, and is not coming. Shvybz is sitting opposite me and is drawing something in the album. We hardly ever ride with Mama during the day, because we are in our infirmary at this time. It's time to finish, I hear Father's voice in the corridor. Big kiss.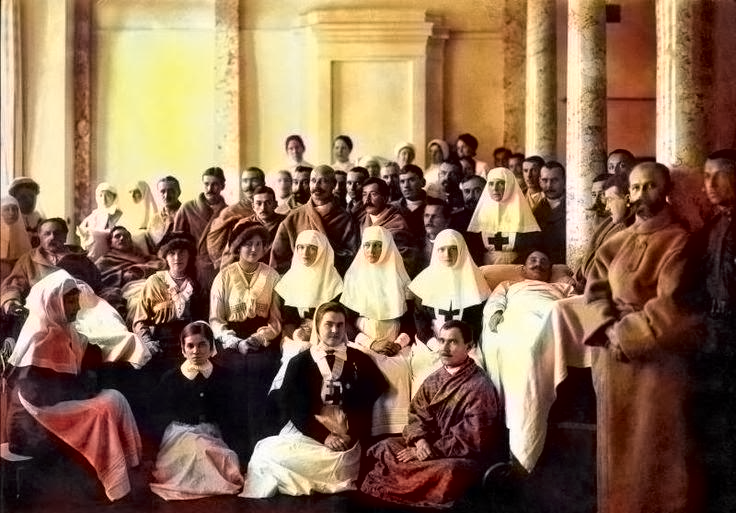 July 20, 1916
To my dearest Papá
Infirmary for the wounded at Feodorovskiy Gosudarev Cathedral
My dearest Papa, I almost forgot to write to you today, I must be shell-shocked. Now we are going to the Grand Palace with Shvybz. Sisters are going to Petersburg, and after the Grand Palace we will go skating with Mama and Anya.
Shtyrev, a cornet of my regiment, is at our infirmary. He is wounded in the leg with an explosive bullet, but he can walk with the help of crutches. He talked a lot about the regiment. Today it's terribly cold, but we still have breakfast in the balcony, though wearing coats. The car should already come so, I'm running out. Strongly and warmly I kiss and hug You. God bless You.
Your Kazanian.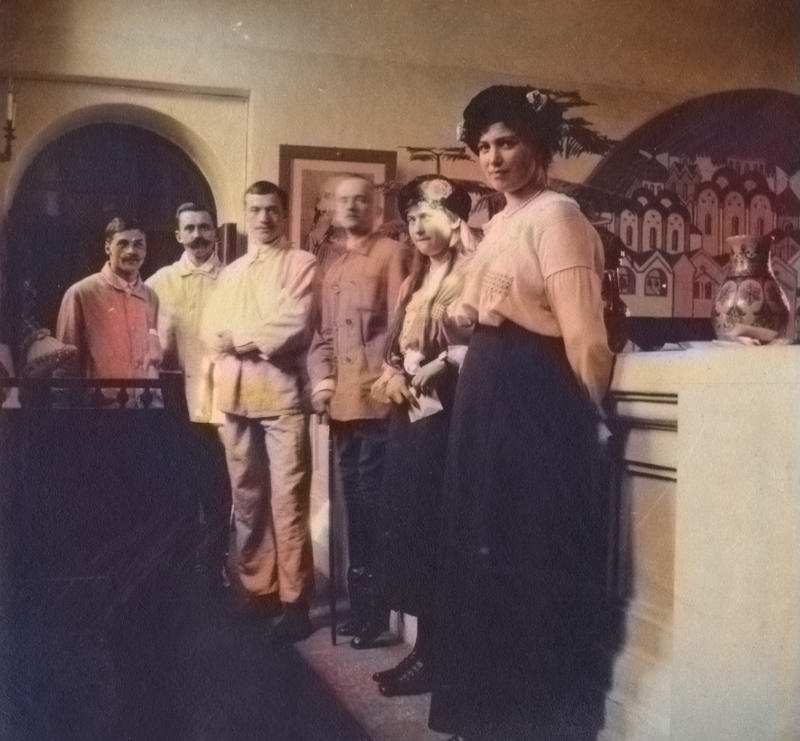 August 15, 1916
To my dearest Papá
Infirmary for the wounded at Feodorovskiy Gosudarev Cathedral
It's been four days already that we haven't played tennis as it's terribly cold and it rains every day. We have been at the Mass in the Cave Temple this morning and then I went for a ride with Trina and Shvybz. We were driving Driving past the station as we saw Voeykov and Nilov in the car. At 11.30 a train from Mogilev arrives in Tsarskoe Selo. You should be very pleased to host Nick. Pav. — The windows and doors in our room are open and I'm freezing slowly but surely.
Now we shall go to breakfast, but Mamá will probably be late. When you are not here, they come back awfully late (from the infirmary). The day before yesterday they returned at 13.40. Well, I'm sending a big kiss to You and Alexei. I apologize for the boring letter, but I do not know anything interesting. God keep You. †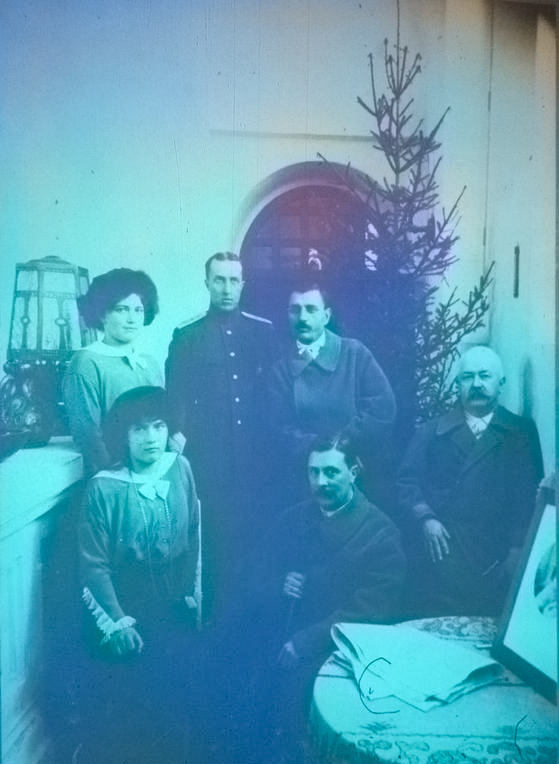 September 12, 1916.
To my dearest Papá
Infirmary for the wounded at Feodorovskiy Gosudarev Cathedral
I am sending the cards you wanted to have to You and Svetlichnyi. One of the wounded sergeants of the fourth sotnia has already recovered, but his Commission does not let him back to the sotnia and sends him home to the Caucasus. He is very unhappy, and at first had not even wanted to agree, but then he was persuaded. We have not played tennis yet. One day there is no time, another day the weather is bad, it's raining.
I'm sitting in the classroom now and I'm supposed to have a lesson with P.V.P, but he's busy and is scheduling classes for winter and sniffles terribly. He continues to write, and so do I. Now we prepare all sorts of warm things for children who live in Mogilev for sending with our train. It seems more boring here after Mogilev. You can not imagine how I envy P.V.P. who will go to you. But I think that he would not have conceded to me, since no sooner had he come that he got a terrible cold.
There was no lesson, P. V. P. said only that I should do it without him. Soon, there will be another lesson in history, and then I'm free and I'll go skating with Shvybz and Trina. I kiss you and Alexei warmly. God keep You! †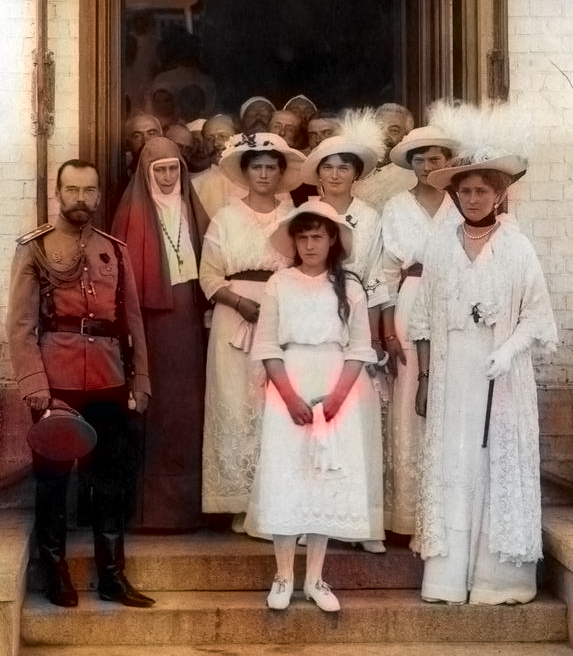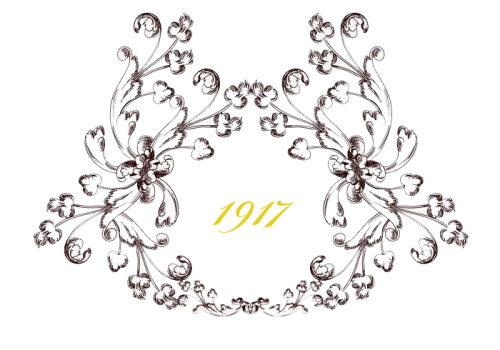 March 7, 1917
To my dearest Papá
Infirmary for the wounded at Feodorovskiy Gosudarev Cathedral
You are in my mind and in my prayers all the time. Sisters are still kept in beds in a dark room but Aleksey got tired of it and was transferred to the playroom where he doesn't curtain all the windows. Today he, Zhilik, and me cast bullets out of tin and he liked it very much. Mother is cheerful though her heart is not quite O.K. yet. I spend all my time with Mother now as I am the only one who is not sick and can walk. I also share the bed with her to be closer to her in case someone wants to see her or to tell her something. Lily sleeps in the Red Room near the dining room on the sofa where Olga used to sleep. She is a dear and helps us a lot in everything.
We can see our cossacks and soldiers out of the windows. Yesterday Mother and I went to the basement to see how they all had got settled there. There was complete darkness there as there is no electricity in the house in the daytime. The soldiers were very nice; when we passed by they leaped up from their straw beds where they were lying to greet Mother. We were led by the porter who carried a candle and gave the soldiers the command «attention!» In the evening, I saw Vikt. Erastovich and he said he came from Petrograd on foot that night. Vershikov, who is placed under house arrest, is in Petrograd as well as the rest of the convoy. We all give a big kiss to You, our dearest Papá. God bless You. †
Yesterday afternoon we had a prayer service. The Icon of Our Lady of the Sign was brought to sisters from the church. After that everyone's heart lightened and it lasted all day. Our precious Papá, we heard everything and believe that the Lord will never leave the one who did his best for us all.
We kiss you warmly many times. God keeps you, and our friend in the sky also prays for you so fervently, and all, all our thoughts are about you and do not leave for a minute.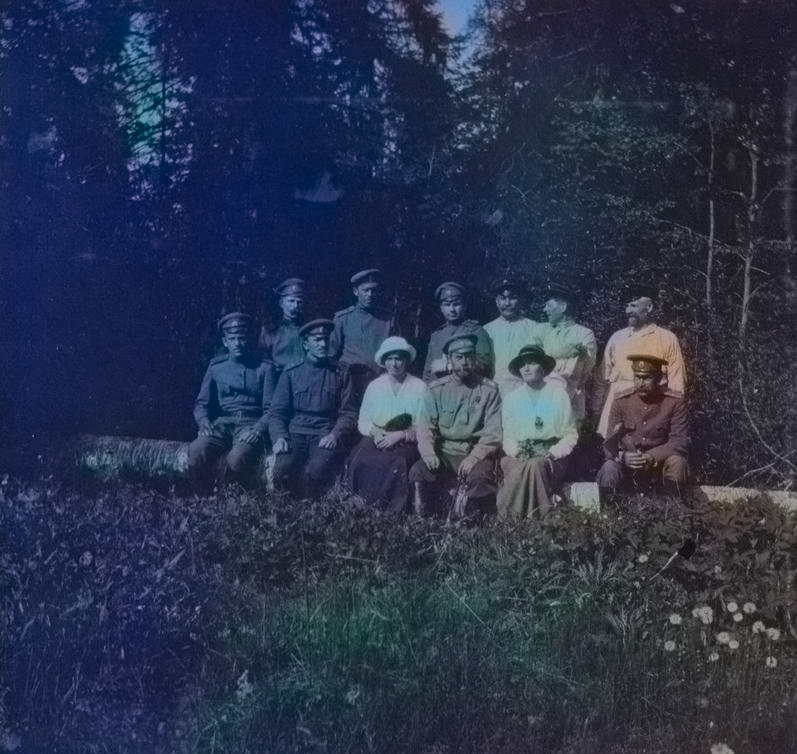 February 15, 1918
To Anna Vyrubova
Tobolsk
How are you, my loved? It was very nice to hear from you. All of us are healthy and walk a lot around the yard, we go downhill sledding. These days there's a severe frost, so Mama stays home. Probably, you will receive this card in February, so I congratulate you on the Saint's Day, God help you in the future and bless you. We often think of you.
The other day I wrote to Akim, I do not know whether he received the letter. I am very glad for Seryozha. God keep you everywhere you go, don't be bored, my dear, God willing, everything will be fine, and we will be together again. Love and kisses.
April 14, 1918

To sisters in Tobolsk
on the way to Ekaterinburg.
The road is bad, the travelling conditions are terrible.
April 17, 1918

To sisters in Tobolsk
Ekaterinburg
We miss the quiet and peaceful life in Tobolsk. There are unpleasant surprises almost daily. We have just had the members of Regional Committee and they asked each of us how much money we had. We had to sign.
As you know that Papa and Mama do not have a kopeck with them, and that was ok, they signed the papers, but I had 16 rubles and 75 kopecks, which Anastasia had given to me for the trip. The money of the rest was all taken by the Committee for safekeeping, they left everyone a little amount and gave receipts. They warned us that there might be new searches. Who would have thought that after 14 months of imprisonment they would treat us like that. We hope that you are better, as it was when we were together.

To sisters in Tobolsk
Ekaterinburg
With a bright holiday, I congratulate You, my dear Anastasia. We came here in cars from the railroad.  Ate for breakfast from a common pot at 4 h. 30 m. We unpacked only in the evening as all the things had been inspected, even medicines and «sugar candies». Because of two days of shaking on horses the things are in terrible condition. It's strange that the frames and the bottles did not break, just the cork of Malgek … (unclear) came out and stained the books, but Nyuta and Sednev brought everything in order. There's dust and dirt even inside the suitcases, all the paper in which the things were wrapped is shabby and torn.
We drank tea together at 9 h. 30 m. and then sat for a while, made beds ourselves and went to bed at 11. Papa reads the Gospel of the week for us. Mama teases Mashka with a successful recurrence of attraction to Pankras, but there's nothing again. I bless † and warmly kiss my little Dushka. We have not taken the things out because they say they will transfer us to another room. I will not write to anyone else, so congratulate everyone on the bright holiday and give my cordial greetings. Tell Madelen (unclear) and others how we live.
I miss you very much, my dear Nastaska. I lack your grimaces at the table. How are your services in the Holy Week? Is the iconostasis which they installed good? Well, good-bye, I kiss you three times. Papa. I wish all the best to my dear Shvybz. God keep you. Your M. Your old Mama.

April 27, 1918

Cестрам в Тобольск.
Екатеринбург
Good morning, my dear.
We just got up and fired the furnace, because the rooms became cold. The firewood cracks soothingly, it reminds of a frosty day in T (obolsk). Today we gave our dirty clothes to the laundress. Nyuta also became a laundress, she washed Mama's handkerchief and dust rags very good. There have been Latvians in the guard for several days already. It's probably uncomfortable at Your place as everything is packed.
Were my things packed? If they did not put the birthday book, then ask N. T. to write. If it does not work, never mind. Probably, you will arrive soon. We do not know anything about You, we are looking forward for the letter. I continue to draw everything from the book of Bem. Maybe You can buy white paint. We have very little of it.
In autumn, Zhilik got somewhere a good, flat and round one. Who knows, maybe this letter will reach You on the eve of Your departure. Bless the Lord your way and may He keep you from all evil. I'm terribly anxious to know who will accompany you. Delicate thoughts and prayers surround you — just to be together again. A big kiss to you, my dear, and bless you.

May 17, 1918
To Anna Vyrubova
Ekaterinburg
I congratulate you on the bright holiday. I apologize for being so late, but we left just before the holidays. This was very unexpected for us. Alexei was sick that time, so the sisters had to stay with him. They should come to us soon. Tell Rita (Khitrovo) that we have seen little Sedyusha fleetingly not long ago. It's been three weeks today since we left Tobolsk. It's so sad to be without the others, especially now, and during the holidays.
We have settled down well here for the time being. The house is small, but clean, it's a pity that it is in the city, and the garden is very small. I do not know how we will manage it when the others come, there are not many rooms. I live with Papa and Mama in one, where we spend almost the whole day. They just went out to the garden, the weather is dull and it's raining. And on the way the weather was wonderful. We went 260 miles by horse to Tyumen. The road was awful, it was shaking horribly. The paper in which the things were wrapped was torn in places. Tobacco poured out of cigarettes. But, strangely enough, glass wasn't broken.
We had some medications with us and it came safely. We went for two days and spent the night in a village. We passed by horses through the Irtysh, on foot through Tura and several fathoms by ferry to the shore. Mom tolerated this road surprisingly well, but now, of course, she feels tired and has a headache almost every day.
Doctor Botkin came with us, the poor man had kidney cramps on the way, he suffered a lot. We stopped in the village, there he was put in a hut, rested for two hours and we went on. Fortunately, the pain did not occur again. And how do you all do? The sisters have written to us that they had had news from you. If you want to write to me, my address is: Ekaterinburg. Regional Executive Committee. Attn.: The Chairman, to be passed to me. Have you got the news of Tilly (Yu. A. Den)? Greet all your family and Nick. Dm. Big kiss to you, Rita (Khitrovo) and the children (D. and S. Tolstoy). I wish you all the best.
God bless you.