(12.08.1904 – 17.07.1918)

Alexei Nikolaevich — Heir Tsesarevich and Grand Duke. The only son of Emperor Nicholas II and Empress Alexandra Feodorovna.
He was born in Peterhof. Since birth, the Tsesarevitch suffered from an incurable blood disease — hemophilia, which he inherited through his mother from his great-grandmother — Queen of England Victoria. This disease became apparent in the autumn of 1904, when a two-month-old baby had a severe bleeding.
Every single scratch could lead to the death of the child; the shells of his arteries and veins were so weak that any injury, exceeded movement or tension could cause a rupture of blood vessels and lead to a fatal end: fall, nose bleeding and simple cut – all these for an ordinary child would be nothing, but could be fatal for Alexei. Since first years of his life, the Tsesarevitch needed a special care and constant vigilance, and as a result, two sailors from the Imperial yacht were assigned to him as bodyguards: boatswain Derevenko and quartermaster Nagorny.
In accordance with the «Institution of the Imperial family», during the christening of the Tsesarevitch, he was honored with the orders of St. Apostle Andrew the First-Called, St. Alexander Nevsky, White Eagle, St. Anna of the 1st degree, St. Stanislav of the 1st degree.
On July 30 (August 12), 1904 in Peterhof the only son of the last Russian Tsar Nicholas II and Empress Alexandra Feodorovna was born, heir to the throne of the Russian Empire Tsesarevitch Alexei.
He was the fifth and very long-awaited child of the Royal couple, about whom they prayed a lot and fervently, including during the celebrations dedicated to the glorification of Blessed Seraphim of Sarov, on July 17-19, 1903.
BAPTISM OF TSESAREVICH
On September 3, 1904, in the church of the Great Peterhof Palace, Tsesarevich was baptized with the name in honor of St. Alexis, Metropolitan of Moscow. According to a number of researchers, the heir received the name Alexei in memory of Tsar Alexei Mikhailovich (1645-1676). The godparents of the royal infant were the English and Danish kings, the German emperor, as well as the Russian Grand Dukes.
ESTABLISHMENT OF CHARITABLE ORGANIZATIONS
Since Russia waged war with Japan during this period, all officers and soldiers of the Russian army and navy were proclaimed honorary godparents of the heir. According to tradition, in connection with the birth of the heir, charitable organizations were established: a military-sanitary train named after Tsesarevich and the Alekseevsky Committee to help children who lost their fathers in the Russian-Japanese war.
MEMORY of P. GILLIARD ABOUT THE HEIR.
The tutor and teacher of royal children Pierre Gilliard, recalls in his memoirs how he saw Tsesarevichfor the first time, who was one and a half years old in February 1906: «… I was already preparing to finish my lesson with Olga Nikolaevna, when the Empress came in with the Grand Duke the Heir to the Throne in her arms. She came to us with the obvious intention of showing me a son whom I had not yet known. On her face shone the joy of the mother, who saw at last the realization of the most cherished of her dreams. One could feel that she was proud and happy with the beauty of her child.
THE APPEARANCE AND BEHAVIOR OF TSESAREVICH
As a matter of fact, Tsesarevich was at that time the most wondrous child one could dream of, with his lovely blond curls and large gray-blue eyes, shaded by long curved eyelashes. He had the fresh and pink complexion of a healthy child, and when he smiled, two dimples appeared on his round cheeks. When I approached him, he looked at me seriously and shyly and only with great difficulty decided to stretch his little hand to me.
THE EMPRESS AND ALEXEI
During this first meeting, I saw several times how the Empress clasped Tsesarevich to herself with mother's gentle gesture, and seemed to be always trembling for the life of her child; but this care and accompanying look revealed so clearly and so deeply hidden concern, by which I was stunned. Only a long time later I understood its meaning. "
Dreadful disease.
Through his mother, Alexey inherited hemophilia, the carriers of which were some daughters and granddaughters of Queen Victoria of England (1837-1901). The disease became apparent in the autumn of 1904, when a two-month-old baby had a severe bleeding.
Any scratch could lead to the death of the child; the shells of his arteries and veins were so weak that any injury, excessive movement or tension could cause a rupture of blood vessels and lead to a fatal end: a falling, nose bleeding or a simple cut – all that would be nothing for an ordinary child, but could be fatal for Alexey.
ASSISTANTS FOR ALEXEY NIKOLAEVICH
From the very first years of his life, Tsesarevich required special care and constant vigilance, as a result of which, as prescribed by doctors, two sailors from the imperial yacht were assigned as bodyguards to him: boatswain Derevenko and quartermaster Nagorny.
MEMORIES OF ANNA TANEYEVA ABOUT TSESAREVICH
Maid of Honor, Anna Taneyeva wrote:
"The life of Alexei Nikolayevich was one of the most tragic in the history of the Tsar's children. He was a lovely, affectionate boy, the most beautiful of all children. Parents and nanny Maria Vishnyakova in early childhood, he was very spoiled, fulfilling the slightest whims. He was very pampered by his parents and Nanny Maria Vishnyakova in early childhood, as they were performing his slightest whims.
And this is understandable, since it was very difficult to see the constant suffering of the small child; in case he had hit the head or his hand on the furniture – huge blue tumor appeared, indicating internal hemorrhage, which caused him great suffering. In five or six years, he was passed into men's hands, to Uncle Derevenko. He did not treat him in the same kind way, although he was very devoted and had great patience.
I heard the voice of Alexei Nikolayevich during his illness: "Raise my hand", or: "Turn my leg", or: "Warm up my hands," and often Derevenko calmed him down. When he began to grow up, his parents explained to Alexei Nikolayevich his illness, asking him to be careful. However, the heir was very lively, he loved childish games and fun, and it was often impossible to keep him away. "Please get me a bicycle," he was begging his mother. "Alexey, you know that you are not allowed to!" — "I want to learn to play tennis like sisters!" — "You know that you dare not to play". Sometimes Alexei Nikolayevich cried, repeating: "Why am I not like all the other boys?"
THOUGHTS OF ALEXEI
Alexey knew perfectly well that he could possibly not live until the adulthood. When he was ten years old, elder sister Olga found him lying on his back and looking to the clouds. She asked him what he was doing. «I like to think, to ponder,» Alexey said. Olga asked what he liked to think about. «Oh, about a lot of things,» replied the boy, «I enjoy the sun and the beauty of summer while I can. Who knows, perhaps in one of these days I can no longer do that».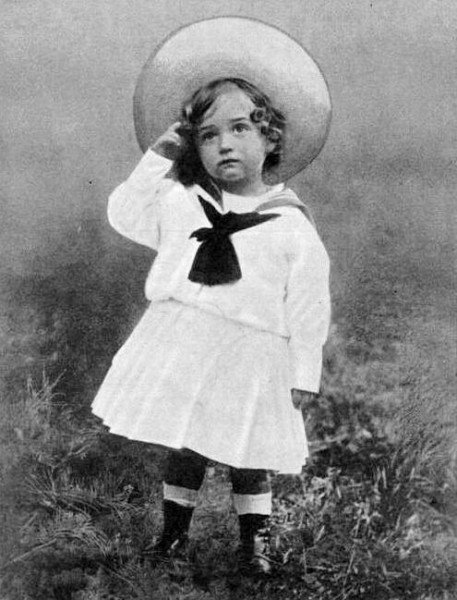 APPEARANCE OF ALEXEI NIKOLAEVICH
Outwardly, Alexei reminded the Empress and the Grand Duchess Tatiana: he had the same fine set of features and big blue eyes. Pierre Gilliard describes him as follows: "Alexey Nikolaevich was then nine and a half years old. He was rather large for his age, had a thin, oblong face with delicate features, marvelous light brown hair with bronze tints, large blue-gray eyes that resembled those of his mother.
CHILDISH GAMES
He quite enjoyed his life when he could, being a frisky and cheerful boy. His tastes were very modest. He did not boast at all that he was the heir to the throne, which was the least of what he thought. His greatest happiness was to play with two sons of the sailor Derevenko, who were both slightly younger than him.
He had great liveliness of mind and assertions and a lot of thoughtfulness. Sometimes he was surprising those who surrounded him with questions way above his age, which testified about his delicate and sensitive soul. I easily understood that those who should not inspire him discipline, as I did, could easily give in to his charm without a back thought. In a small capricious creature, as he seemed at first, I discovered a child with a heart naturally full of love, and compassionate to suffering, because he had himself suffered a lot already».
S.Y. OFROSIMOVA ABOUT ALEXEI
Resident of Tsarskoye Selo S.Y. Ofrosimova shares the following memories: «The heir Tsesarevitch had a very soft and kind heart. He was ardently attached not only to his intimate persons, but also to ordinary employees around him. None of them saw him as arrogant or harsh. He was particularly easy and warmly attaching to common folks. His love for Uncle Derevenko was tender, passionate and touching. One of his greatest pleasures was playing with Uncle's children and spend time among common soldiers.»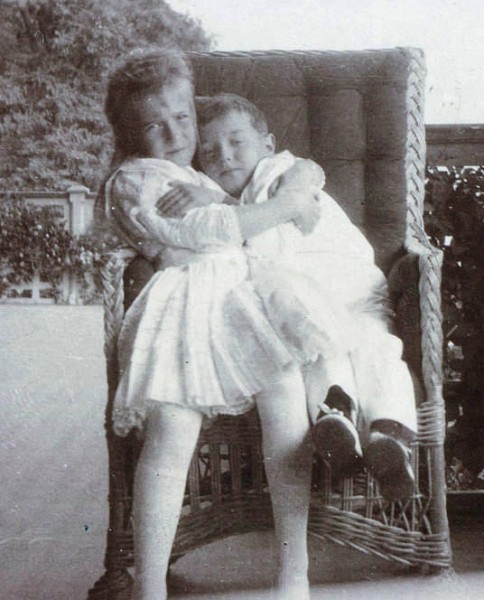 HOPES AND DREAMS
With interest and deep attention, he peered into the life of ordinary people, and often he darted exclamation: «When I'll become a Tsar – there will be no poor and miserable! I want everyone to be happy. «
COMPASSION AND PARTICIPATION OF THE HEIR TO HIS LOVED ONES
A.A. Taneyeva recalled: "The Heir took an active part if the servants were gloomed by any occasion. His Majesty was also compassionate, but he did not express it actively, while Alexei Nikolayevich did not calm down until he could help immediately. I remember the case of a cook, who for some reason was dismissed. Alexei Nikolaevich once found out about this and molested his parents all day until they ordered the cook to be employed back again. He defended and was solidly behind for all those who were close to him».
EDUCATION
At the age of seven, Alexei began to study. The classes were led by the Empress, who appointed teachers by herself: the catechist was the confessor of the imperial family, archpriest Alexander Vasilyev, the teacher of Russian language — privy councilor P.V. Petrov, a teacher of arithmetic — state councilor E.P. Tsytovich, French teacher and tutor — P. Gilliard. Teachers of English language were C. Gibbs and Alexandra Fedorovna herself.
LIFE AT TSARSKOE SELO
Life in the Tsarskoe Selo had an intimate family character: the retinue, except for the duty maids and the commander of the Guards regiment, did not live in the palace, and the Tsar's family, except for visits of relatives, gathered at a table without strangers in absolute simplicity. Crown Prince used to start lessons at nine o'clock with a break between eleven and noon, during which the Heir with the tutor went for a walk in a carriage, sleigh or car. Then the classes were resumed before lunch, after which Alexei always spent two hours outside. The Great Duchesses and the Emperor, when he was free, joined Him. In the winter, Alexei was having fun with his sisters, descending from the icy mountain, built on the shore of a small artificial lake.
LOVE FOR ANIMALS
Just like his sisters, Tsesarevich adored animals. P. Gilliard recalls: «he loved to play with his donkey Vanka, which used to be harnessed to a small sled, or with his dog Joy, a dark brown Bolognese on low legs, with long, falling almost to the floor silky ears. Vanka was great, smart and fun pet.
When the idea of buying a donkey for Alexei Nikolayevich appeared, long search among all the horse dealers in St. Petersburg was in vain; then the Ciniselli's Circus has agreed to sell the old donkey, which was too decrepitude for performances. Thus, Vanka appeared at court, and apparently appreciated the Palace stables. He amused us a lot, because he knew many of the
most incredible tricks. With great dexterity, he turned out the pockets, hoping to find some sweets. He found a special charm in old rubber balls, which he casually chewed, closing one eye like an old Yankee.
These two animals played a big role in the life of Alexei Nikolayevich, who had very little entertainment. He suffered mainly from the absence of friends. Fortunately, his sisters, as I said, loved to play with him; they brought fun and youth into his life, without which it would be very difficult for him. During the day the Emperor, who loved to walk a lot, usually went around the Park with one of the daughters, but he would also join us from time to time, and we once built a tall snow tower, which took the form of imposing fortress and occupied us for a few weeks.»
According to the existing tradition, since the childhood Alexei Nikolayevich was being accustomed to Royal Duties, and Tsesarevich attended receptions, parades, and musters even when he did not begin to talk and walk. He was the ataman of all the Cossack troops, the chief of several guards and army regiments, as well as the Tashkent Cadet Corps, Alekseevskoye (Maritime) Military School, Naval Cadet Corps.
Under his auspices, there was a trading school in Kerch, a Mogilyov-Podolsk Commercial School, and a school for poor children in St. Petersburg. The name of the Heir was carried by 115 educational and charitable institutions: real schools, gymnasiums, schools-shelters, commercial schools, trade schools, etc.
Tsesarevichwas learning Russian, French and English, arithmetic, history, geography and the Law of God.
In the 1909/10 school year, the workload of Tsesarevich increased significantly: Russian (Petrov, 11 lessons per week); English (Gibbs, 13 lessons per week); French (Gilliard, 13 lessons per week); arithmetic (Sobolev, 7 lessons per week); history and geography (Ivanov, 10 lessons per week). The weekly study load increased from 31 lessons to 54 lessons, that is, with a five-day week more than 10 lessons per day. It should be noted that the duration of one lesson was 30 minutes. In the 1914/15 academic year, which was relatively quiet for illnesses, the daily routine of Tsesarevich was structured as follows. Unlike his great-grandfather, who used to wake up at 6 am, Tsesarevich was up at 8 am. He had 45 minutes for prayer and arranging himself. From 8.45 to 9.15 am they served morning tea, which he had alone. Girls and parents had morning tea separately. Then he had 5 minutes to greet his mother — Empress Alexandra Feodorovna. In the schedule, this time was designated as "stay with Her Majesty".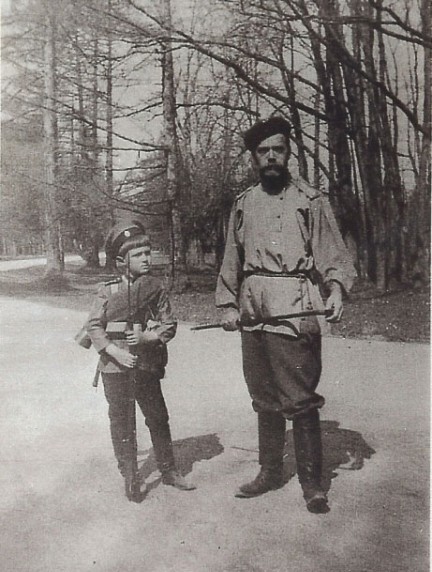 DAILY ROUTINE
From 9.20 to 10.50 there were two first lessons (the first lesson was 40 minutes, the second one — 50 minutes) with a break time of 10 minutes. A recess with a walk lasted 1 hour and 20 minutes (10.50–12.10), and then there was another 40-minute lesson (12.10–12.50). A little more than an hour was devoted to breakfast (12.50–14.00). Typically, the whole family gathered for breakfast by one table for the first time, unless there were official events on that day.
After breakfast, the 10-year-old crown prince was taking rest for an hour and a half (14–14.30). Then again, a walk, classes and outside games (14.30–16.40). At this time, he had a chance to talk with his father, who was walking in the park, or with his mother. Then followed the fourth lesson, which lasted 55 minutes (16.45–17.40). Crown Prince was allowed to spend 45 minutes for lunch (17.45–18.30).
He dined alone or with his sisters. Parents dined much later. After lunch, Tsesarevich prepared his homework for an hour and a half (18.30–19.00). Mandatory part of the «working day» of Tsesarevich was a half-hour massage (19.00–19.30). After the massage, games and a light dinner (19.30–20.30). Then Tsesarevich was preparing for bed (20.30–21.00), praying and went to bed (21.00–21.30).
WILL POWER OF TSESAREVICH
According to the opinion of many people surrounding Prince Alexei, he had a strong will, which was not just a hereditary quality, but developed and strengthened because of the frequent physical suffering caused to the child by a terrible disease. The disease became a teacher of the little Martyr. According to Anna Taneyeva, «frequent suffering and involuntary self-sacrifice developed in the character of Alexei Nikolayevich pity and compassion for all who were sick, as well as an amazing respect for the mother and all the elders.»
KNOWLEDGE OF OWN CHOSENESS
However, with all his kindness and compassion, the boy did not tolerate when he was treated with insufficient respect as an Heir to the throne. S. Ya. Ofrosimova tells the following episode: «Tsesarevich was not a proud child, although the idea that he was the future Tsar filled his whole being with the consciousness of his highest destiny. When he was in the company of noble and persons close to the Emperor, he had a consciousness of his royalty.
One day Tsesarevich entered the office of the Emperor, who at that time was talking to the minister. At the entrance of the Heir, the interlocutor of the Emperor did not find it necessary to stand up, but only, rising from his chair, gave the Prince his hand. The heir, offended, stopped before him and silently put his hands behind his back; this gesture did not give him an arrogant look, but only a Regal, waiting pose. The Minister unwittingly stood up and straightened to his full height in front of Tsesarevich. He replied with a polite handshake. Having told the Emperor something about his walk around, he slowly left the office; the Emperor starred after him for a long time and finally said with sadness and pride – «Indeed, it will not be so easy for you to deal with him as with me.»
According to the memoirs of Julia Den, maid of honor and friend of the Empress, as a very young boy, Alexei was already aware that he is the heir: «Once, when he played With the Grand Duchesses, he was told that the officers of his sponsored regiment came to the Palace and asked permission to see the Tsesarevich. A child of six, immediately leaving a romp with her sisters, solemnly said: «Girls, go away, the heir shall have a reception».
DESCRIPTION OF CROWN PRINCE BY KLAVDIA BITNER
Klavdia Mikhailovna Bitner, who provided lessons to the heir in Tobolsk, recalled about the Crown Prince: «I loved Alexei Nikolaevich most of all. He was a sweet, good boy. He was smart, observant, receptive, very affectionate, happy and cheerful, despite his serious illness…
He used to be disciplined, but did not like erstwhile court etiquette. He did not tolerate lies and would not tolerate it around him if he had ever taken power. He combined traits of his father and mother. From his father he inherited his simplicity. There was no complacency, insolence or arrogance in him at all. He was simple.
However, he had a great will and would never obey to influence from outside. Unlike the Emperor, if case of taking the power back again, I were sure, would forget and forgive the actions of those soldiers, who were well known in this regard. Alexei, if he had the power, would never forgot and never forgave, and would make appropriate conclusions.
He understood about many things and understood people. However, he was of morose manners and restrained. He was incredibly patient, very careful, disciplined and demanding to himself and others. He was kind, like his father, in the sense that he had no possibility in his heart to do evil in vain.
At the same time, he was thrifty. One day he was sick, and was served with a meal, common with the whole family, which he did not eat, because he did not like this dish. I was indignant. How is it possible that they cannot make separate food for the child in the time of sickness? I said something. He answered me: «Enough! It is impossible to spend money on me alone.»