Empress Alexandra Feodorovna (Alice Victoria Elena Louise Beatrice) was born on June 6, 1872
She has come into the world in summer of 1872 in Darmsadt, Germany. She was the fourth daughter of the Grand Duke Ludwig VIII von Hessen-Darmstadt and daughter of the Queen of the Great Britain, Duchess Alisa. Little girl was a real sun light. And her grandmother Victoria called her "Sunny". Alix, a white-headed, with a dimpled smile, blue eyes, very active and merry, immediately shared her good mood to all her ceremonious relatives making smile even her strict grandmother.
The baby adored her sisters and brothers. Apparently, for her it was especially cheerily with a brother Frederick and younger sister Mary, whom she called "May" due to difficulties in pronunciation of "r". Frederick demised when Alix was 1 years old. Her beloved brother died with cerebral haemorrhage due to an accident. Mummy Alisa, which even before was melancholic and unjoyful, has sunk herself into heavy depression.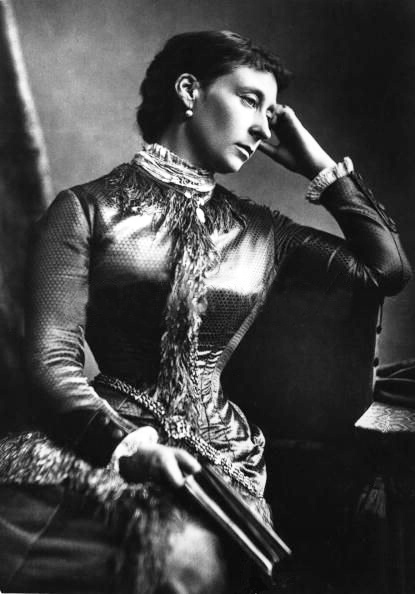 But when the edge of the pain caused by sorrow was a bit blunted, several new waves of grief consumed the family. The epidemic of diphtheria that took place in Hessen in 1878 has taken Alix's sister "May" and three weeks after – her mummy.
So "Sunny" Alisa's childhood was over at the age of 6. She and her "sunny light" have "failed". She lost almost everything so sincerely beloved by her: her mummy, little sister and brother, her toys and books, which they had to burn up and replace for new ones. May be, at that time even Alisa herself, so open and funny, has also disappeared.ervision of her grandmother. Meticulously selected teachers gave her, sister Ella and brother Erni the classes of geography, mathematics, history and different languages. Besides, children learned painting, music, horse riding and gardening.
Learning subjects never troubled the girl much. Alisa played the piano brilliantly. The classes of piano were given to her by none other than the director of the Darmstadt Opera House. That's why the girl showed marvelous facility in playing the most difficult Wagner's and Schumann's musical compositions. Besides, she easily mastered all the peculiarities of the court ceremonial. The only aspect that upset the grandmother was Sunny's unsociability, inhibitedness, and animus towards noisy high society.
Alisa aspired after literature, in which most of her age-mates were disinterested. She constantly read and made abstracts of philosophy and theology books. Her knowledge in this sphere has been widely known, and later she earned her Doctor of Philosophy degree in Cambridge University.
She derived her ability for music from her mother: she was a good pianist and romantic song singer with her mezzo-soprano. She shared her parents' interest in music of Richard Wagner. Princess Alix had also a gift for painting. Moreover, she was good at handiwork (especially at embroidery and knitting). All this was, surely, possible due to excellent memory of the Princess, her hard work and diligence.
By the age of fifteen She had studied the history, geography, arithmetic and literature quite well.
Later, when she already moved to Russia, she amazed specialists with brilliant knowledge of Latin names of plants and birds. She spoke fluently German and English, knew French language quite well.
Then Princess von Hessen graduated from Heidelberg University as Bachelor of Philosophy.
In March of 1892 Alisa was hard hit again by the death of her father, who died in her arms because of heart attack. After this tragedy the girl felt even lonelier. Only her grandma and brother Erni, succeeded to the Crown, stayed near her.
Her sister Ella had lived in far Russia since recently. She married a Russian duke and assumed a new name Elizaveta Feodorovna.
Niki & Alix 
For the first time Alisa saw Niki at the sister's wedding. That time she was only 12 years old. Young princess liked very much the well-mannered and delicate boy. For her he was an enigmatic Russian duke, which so differed from her British and German cousins.
For the second time she met with Nikolay Alexandrovich Romanov in 1889. Alisa went to Russia by invitation of her sister's husband Grand Duke Sergey Alexandrovich, who was the Nicholas's uncle. One and a half months spent in Sergiyevsky Palace and meetings with Nicholas were enough to understand that she met her soul mate.
The only people who were glad about their desire to cast their lot with each other were her sister Ella (Elizaveta Fedorovna) and sister's husband. They became some kind of communicators between the young people in love, assisting in their communication and secret correspondence.
Grandmother Victoria, who did not know about the private life of her reserved granddaughter, was planning her marriage with the cousin Prince of Wales Edward. An older woman wished to settle the title of the Queen of Britain to her beloved «Sun" and transfer her all appropriate powers.
But Alix, who was in love with a far Russian Duke, called the Prince of Wales "Eddy-cuffs" for his excessive attention to the mode of dressing and narcissism. She declared to the Queen Victoria that she would marry only Nicholas. When Alix showed to her granny their letters, the Queen was frustrated, but had to accept that it was impossible to stop her granddaughter.
The parents of Tsarevich Nicholas were not also enthusiastic about their son's desire to marry the German princess. They counted on his marriage with Princess Elena Louise Henrietta, the daughter of Louis-Philippe. But Nicholas, like his bride in far England, has demonstrated his persistence.
Alexander III and his wife have capitulated. The reason was not only Nicholas's perseverance, but also rapid Tsar's health deterioration. He was dying and wanted to transfer the reins of power to the son, who had already built his life. Alisa was urgently invited to Russian Crimea.
The dying Emperor left the bed with his last ounce of strength and put on a military uniform to meet his future daughter-in-law in the best possible manner. The Princess who knew about critical condition of her future father-in-law was affected to tears. They started urgent preparation of Alix for marriage. She studied Russian and fundamentals of Orthodox Christianity. Soon she adopted Christianity and along with this assumed a new name Alexandra Feodorovna.
Emperor Alexander III deceased on 20-th of October 20, 1894. And on 26-th of October Alexandra Feodorovna and Nicholas Alexandrovich Romanov got married in church. The bride's heart died within her with a bad feeling because of such a hurry. But Grand Dukes insisted on wedding urgency.
To observe the properties the wedding ceremony was planned for the Birthday of the Empress Maria Feodorovna. By existing canons it was allowed to come out of mourning in such a day. Sure, there were no receptions or big celebrations. The wedding had some kind of mourning colour. As the Grand Duke Alexander Mikhailovich wrote in his memoirs:
"The honey moon of the marrieds was spent in the atmosphere of burial services and mourning visits. The most intentional dramatization could not create a most suitable prologue for historical tragedy of the last Russian Tsar".
The second gloomy omen that made the young Empress's heart sink with sorrow happened in May of 1896 in the course of the imperial family crowning. In Khodynka Field a bloody tragedy happened. But the celebrations have not been canceled.
Young spouses spent the most of time in Tsarskoye Selo. Alexandra Feodorovna felt well only in company with her husband and sister's family. The society has received a new Empress frigidly and with antipathy. Unsmiling and reserved Empress seemed them to be arrogant and too ceremonious.
To switch off from unpleasant thoughts Alexandra Fedorovna Romanova enthusiastically got down to public affairs and worked for charitable causes. Soon, she found several close friends. In fact, they were just a few ones: Princess Maria Baryatinskaya, Countess Anastasia Gendrikova and Baroness Sophia Buksgevden. But the closest Empress's friend was her maid of honor Anna Vyrubova.
Without knowledge of Russian customs, not having become accustomed to a new country, society, court in the role of a Duchess Alexandra Feodorovna had to step immediately into the role of an Empress. As she was very reserved by nature, strict and kept at a distance with people, she felt good only with her family. She liked neither court environment, nor Saint Petersburg higher society. Only in the first years of marriage she often attended the court balls and receptions of Saint Petersburg aristocracy, but then she showed herself less and less.
She didn't know how to keep the talkee-talkee up, how to smile timely or say some good and sweet, but insignificant word. That's why she immediately turned her Court against herself. It was quite negative towards her. Alexandra Feodorovna had strained relations with many members of the "Imperial Family", and relationships with her mother-in-law also failed.
The Empress was the Colonel-in-chief of Imperial Guard Ulanen Regiment, 5-th Hussar Alexandrian Regiment, 21-st East-Siberian Rifle Regiment, Crimean Horse Regiment, and foreign Prussian 2-nd Dragoon Guards.
Having spent most of her life in constitutional England, Alexandra Feodorovna became a zealous supporter of autocracy like her husband. Till the very end she was sure that such form of governance is the best one for the country. Alexandra Feodorovna, as an Empress, has never had her own power-seeking ambitions. The sense of her life was the good of her husband.
The imperial spouses gave birth to 5 children one by one. First, only girls were born: November 15, 1895 – Olga, June 10, 1897 – Tatiana, June 26, 1899 – Maria, June 18, 1901 – Anastasia.
Some snarky comments were constantly appeared in this connection. Finally, when on 12-th of August of 1904 so long-awaited Heir to the throne came into the world, the parents got to know with horror that the child was ill. He suffered from hemophilia – disease, which the Empress was afraid most of all.
Shutting off herself from the world in the family narrow circle she spent most of her time in Tsarskoye Selo, Peterhof, and Livadiya. The royal couple lived very secluded existence. The last years they spent in comparatively small and not grand Alexandrovsky Palace located in Tsarskoye Selo.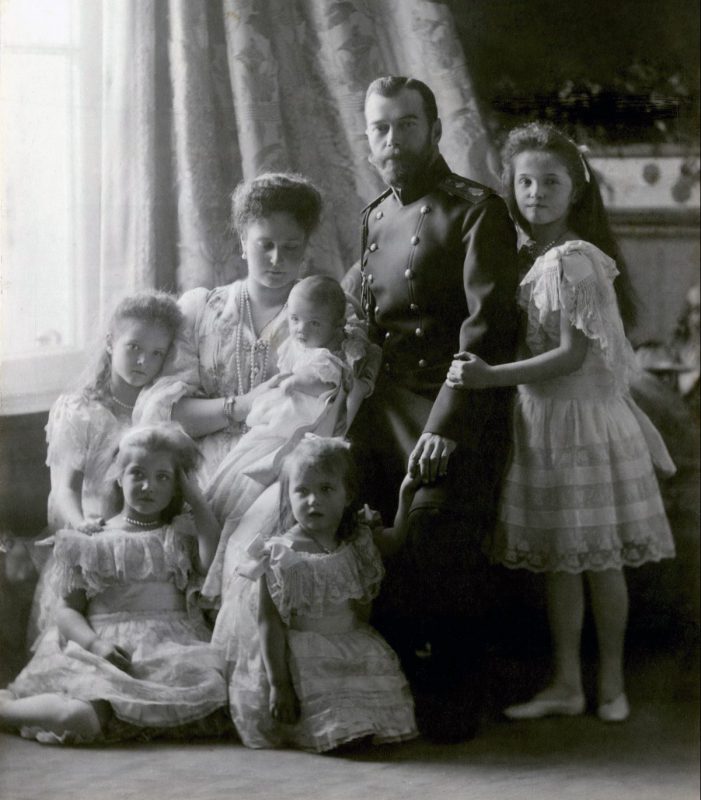 Many times liberal press groundlessly accused her of espionage for Germany.
After February Revolution she was arrested in Tsarskoye Selo, sent with her family to Tobolsk and later to Ekaterinburg. She martyrly died at the age of 46 years old along with her husband, children and several representatives of their court close to the family a lot.
…
I pray
That Christ the Xmas King may stoop to bless,
And guide you day by day to holiness,
Your Friend in joy, your Comfort in distress;
I pray
That every cloud may lead you to the light,
And He may raise you up from height to height,
Himself the Day-Star of your darkest night;
I pray
That Christ, before whose Crib you bend the knee,
May fill your longing soul abundantly,
With grace to follow Him more perfectly.
1917
Tobolsk 
Alexandra